Is Wal-Mart Stock in Danger of a Pullback?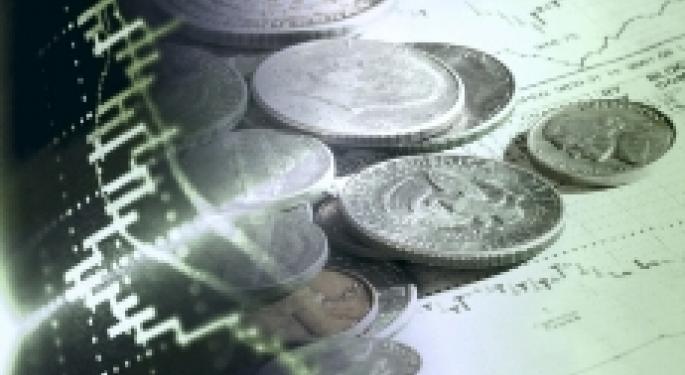 By Sasha Cekerevac for Investment Contrarians
We all know that the stock market has moved up significantly over the past few months. The real question is: is the move up based on the belief that there is enough economic growth available for corporate earnings to continue rising, or is it simply due to a flow of funds?
Let's analyze this question by taking a look at Wal-Mart Stores, Inc. (NYSE: WMT). Wal-Mart just released its forecast for second-quarter corporate earnings, which was less than most analysts had expected. The company now forecasts corporate earnings on a per-share basis for the second quarter to be $1.22–$1.27, lower than the average estimate by analysts of $1.29. (Source: "Walmart reports a 4.6 percent increase for Q1 EPS of $1.14; U.S. businesses forecast positive comp sales for Q2," Wal-Mart Stores, Inc. web site, May 16, 2013, accessed May 16, 2013.)
As a sign of the health of America's economic growth level, Wal-Mart reported that comparable same-store sales dropped by 1.4% between January 26, 2013 and April 26, 2013. Internationally, Wal-Mart is doing better, with sales up 2.9% during the first quarter.
However, corporate earnings suffered during the first quarter due to several reasons, including very cold weather, continuing weak employment levels, and the payroll tax hike. Many businesses that cater to the lower- to mid-level consumer will most likely encounter similar problems due to these issues and general sluggish economic growth.
Recent data have been relatively mixed regarding the potential for economic growth to begin moving upward. However, for Wal-Mart's corporate earnings, there is the potential for a slightly stronger second half because some of the company's initial hurdles have been lowered.
This includes the price of gasoline dropping approximately seven percent over the past few months, which will have a positive impact on discretionary spending. In addition, the weather has improved, and while the pace of job creation has been weak, it's at least moving in a positive direction. For shareholders, Wal-Mart has been cutting costs as an attempt to maintain corporate earnings expansion.
However, all of these factors are short-term in nature, and we would need to see a significant increase in overall economic growth for corporate earnings to continue rising over the next few years. You can only cut so many costs before you're running a business on the bare minimum of staff and equipment.
Wal-Mart's stock chart is featured below: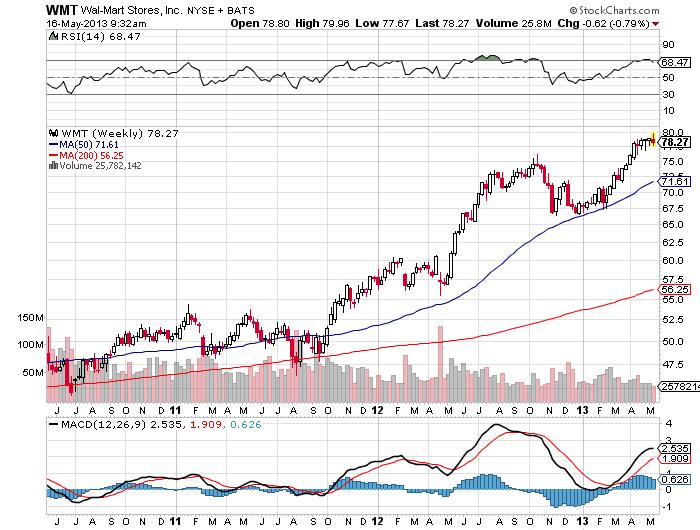 In spite of weak economic growth, the share price of Wal-Mart has risen tremendously. Part of this rise is due to the hunt for income through the dividend yield, and not the expectations for significant corporate earnings growth.
This hunt for income is dangerous to follow, because as quickly as the money enters a stock, it could leave just as fast. While corporate earnings might not be as crucial to these income investors, with interest rates so low, there is very little possibility of a further decrease and a huge risk of higher rates over the next few years.
This means that an increase in interest rates will hit companies that investors are primarily looking at for dividend yields. Unless economic growth rises to such a level that corporate earnings can begin increasing to a substantial level, the stock price is likely to sell off.
This Article Is Wal-Mart Stock in Danger of a Pullback? was originally published at Investment Contrarians
The preceding article is from one of our external contributors. It does not represent the opinion of Benzinga and has not been edited.
Posted-In: Markets Trading Ideas
View Comments and Join the Discussion!