Rise in Stock Market Failing to Help the Jewelry Sector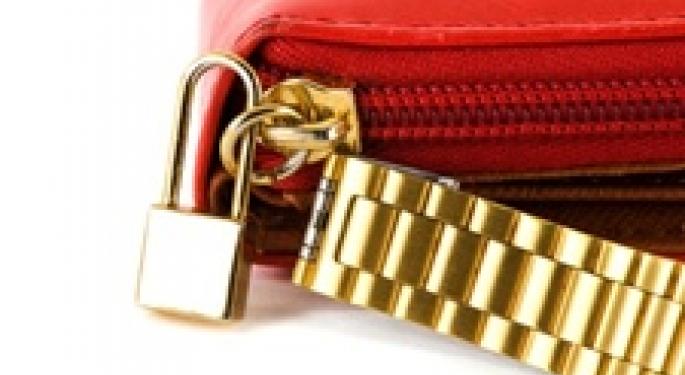 By Sasha Cekerevac for Investment Contrarians
One of the most often stated arguments for the current aggressive monetary stance by the Federal Reserve has been that if asset prices can begin to recover, this will help the overall economy.
With the spectacular rise in the stock market over the past couple of years, it would be natural to think that many Americans have seen an increase in their wealth, leading to an increase in corporate earnings for companies that cater to people who might be investors.
The jewelry market sector is a good indication of this sentiment for clients who might have seen their wealth increase through asset appreciation. However, corporate earnings in this market sector do not appear to follow this logic.
Tiffany & Co. (NYSE: TIF) recently came out with its corporate earnings, which revealed some interesting information regarding the jewelry market sector.
For the Americas, total sales rose only two percent, with its flagship New York store seeing a three percent drop in sales. The New York store for Tiffany makes up approximately eight percent of the company's total business. Tiffany's stores in Japan, another country that has seen a recent rise in the stock market due to an aggressive monetary policy stance, also witnessed sales declining by six percent. (Source: Warner, M. and Talley, K., "Tiffany Projects a Rough Start but a Brighter Finish for Its Year," Wall Street Journal, March 24, 2013.)
While it is true that Tiffany's Asia-Pacific division did well, as sales rose 13%, the real question is: if this recent rise in the stock market in America, which has been far larger than many had predicted, is failing to increase corporate earnings for the jewelry market sector, what would happen to corporate earnings if the stock market fell?
Tiffany is optimistic for the second half of the year, but I believe it is incorporating a continued move up in the stock market, which would drive corporate earnings.
If the mid- to high-end jewelry market sector is having problems growing corporate earnings with the stock market at such high levels, I don't believe corporate earnings would increase if the stock market were to decline.
Much of the disappointment in corporate earnings growth domestically, according to Tiffany, was the mid-market consumer. This particular market sector does not comprise high-end customers. The weakness in this middle-income market sector is a sign to me that many Americans have missed the upward move in the stock market. Companies relying on the middle-income market sector could face serious disappointment in their corporate earnings results later this year if the stock market were to decline.
With this being the case, this helps explain why the policies by the Federal Reserve are not having the intended effect of increasing job creation. Simply put, a very small minority of Americans have benefited from the higher stock market, while millions have missed the boat.
At this point, Tiffany looks like a risky bet. While overall sales did increase by 4.1%, same-store sales were flat. And this is for a company that trades with a forward price-to-earnings (P/E) ratio of more than 17 and is heavily reliant on an increase in corporate earnings during the second half of 2013, even though this huge run-up in the stock market hasn't benefited the company yet.
The jewelry market sector can be quite finicky, and it only benefits if people are willing to spend. The current corporate earnings report clearly shows that even fairly well-off Americans are not eager to part with their cash. If this is the result, following such a huge move up in the stock market, I would imagine that corporate earnings in the jewelry market sector would be hit significantly if the stock market were to decline by a substantial amount.
This ArticleThe Real Force Behind Cheap Housing was originally published at investmentcontrarians
The preceding article is from one of our external contributors. It does not represent the opinion of Benzinga and has not been edited.
Posted-In: Markets Trading Ideas
View Comments and Join the Discussion!