Apple Passes RIM, Takes 4th Place in Global Market Share (AAPL, RIMM, NOK)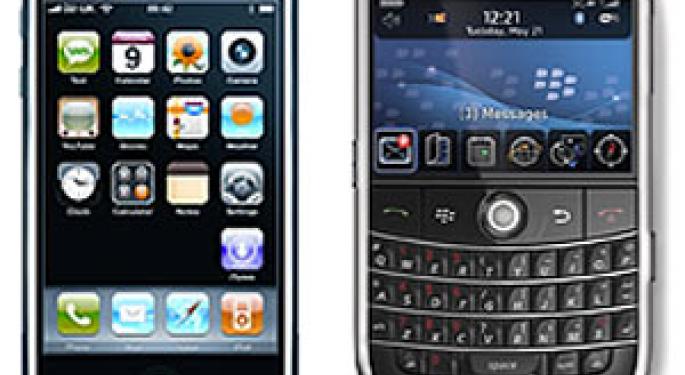 Apple (NASDAQ: AAPL) surpassed Research in Motion (NASDAQ: RIMM) in the third quarter to move into fourth place on the list of the Top 5 mobile phone vendors worldwide. Apple now holds 4.1% of the global market share, with RIM now at 3.6%.
According to the International Data Corporation (IDC) Worldwide Quarterly Mobile Phone Tracker, vendors shipped 340.5 million units in 3Q10 compared to 297.1 million units in the third quarter of 2009. Finland-based Nokia (NYSE: NOK) leads the third quarter market share, with 32.4%.
The IDC notes that "The growing popularity of converged mobile devices, or smartphones, with consumers and businesspersons is evidenced by the appearance of a second smartphone-only vendor in the top 5 ranking. Apple and RIM also posted the highest-growth rates among the top 5 vendors last quarter."
"The entrance of Apple to the top 5 vendor ranking underscores the increased importance of smartphones to the overall market. Moreover, the mobile phone makers that are delivering popular smartphone models are among the fastest growing firms," said Kevin Restivo, senior research analyst with IDC's Worldwide Mobile Phone Tracker. "Vendors that aren't developing a strong portfolio of smartphones will be challenged to maintain and grow market share in the future."
"The smartphone is becoming the focal point of the personal communications experience," Restivo continues. "As a result, new market growth will be increasingly generated by smartphones. This year, we are expecting the smartphone sub-market to grow 55% year over year."
Nokia's global strength isn't lost on the IDC's staff, notes Ramon Llamas, senior research analyst with IDC's Mobile Devices Technology and Trends team.
"Nokia still leads all vendors by a significant margin for converged mobile devices and mobile phones as a whole. However, Nokia's grip on the traditional mobile phone market has been somewhat loosened, as multiple Chinese vendors have gained ground, especially within emerging markets. To bolster its overall competitiveness, Nokia has been focused on improving its smartphone offerings."
Shares of Apple and Nokia both are down this afternoon, to $303.83 and $10.70, respectively. Research in Motion is higher by 1.8%, or $1.02, to $57.23.
View Comments and Join the Discussion!
Posted-In: Engadget.com International Data CorporationNews Global Intraday Update Movers Tech