The Future Of Online Video With Howcast.com's Sanjay Raman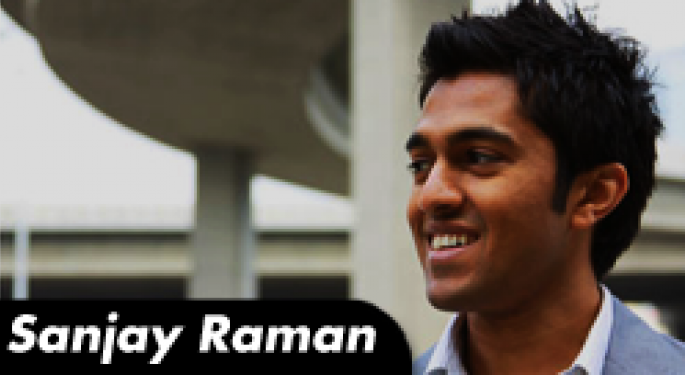 Benzinga is switching to a new feed - check this blog post to find out more.
Welcome to Zing Talk, where Benzinga brings you the biggest names and brightest minds from Silicon Valley to New York City.
Today our guest is Sanjay Raman, Co-Founder and Chief Product Officer at Howcast.com.
Hi Sanjay, how are you doing today?
Sanjay Raman: Good. How are you?
Good! Could you start off by telling our listeners a little bit about yourself and Howcast.com?
Sanjay Raman: Howcast is a media technology company. We focus on producing high-quality how-to videos showing the world how to do just about anything. You can find our videos on Howcast.com, or a number of sites across the Web including YouTube (NASDAQ: GOOG), Hulu, Yahoo! (NASDAQ: YHOO), MySpace, and a suite of mobile applications that we have, whether it's an iPhone, iPad (NASDAQ: AAPL), Android or BlackBerry (NASDAQ: RIMM).
All told, our videos get played on over 25 million views every month. In short, that's the company.
I'm one of the founders, including two other former colleagues that I worked with at Google. We started the company about two and a half years ago. We really started the company because we saw that there were a lot of people searching for instructional queries online – ex: how to make sushi, how to clean your hardwood floor. There were a lot of things that people want to learn how to do. Instructional content, unlike other content like sports or news content, the videos are evergreen. The value of the videos continues to grow over time – [they don't] perish after a few months.
There's a lot of value to the content we're making, and we have the best how-two videos on the Web. People love what we're doing.
What's the most popular video on Howcast right now?
Sanjay Raman: We have a lot of really popular videos, and one of the most popular is How To Use Twitter. We have a video that we made in combination with Twitter showing people how to use it. They actually put it on their website.
Considering the sites like YouTube and Hulu that are household names, how did Howcast make itself a player in that world? How do you distinguish yourself from the many online video competitors out there?
Sanjay Raman: First of all, YouTube and Hulu aren't really competitors of Howcast. In fact, they're great partners of ours. Howcast is actually a Top 100 partner on YouTube, meaning that the content is all available on YouTube. Similarly, on Hulu, we actually distribute our content there as well.
Our idea is that we can actually use [these sites] to get our message out, to get our brand out there, to get our users familiar with what Howcast is about. So we don't look at them as competition – [we look at them] as a platform to spread our message and to spread Howcast to where people are and where they're watching videos.
One of the major challenges of any content creator on the Internet is how to make money. What are Howcast's main strategies for gaining a profit on its videos?
Sanjay Raman: As I mentioned, one of the main advantages of our content is that it retains its value over time. We make money two ways. The first is running advertising in the video itself. When you're watching a video, you can actually run targeted advertising against the video.
For example, you're watching a video on how to buy a digital camera, you can actually see an ad for a new Canon (NYSE: CAJ) camera before the video plays. The great thing about that is that there's some intent in the action of watching that video. So if you're watching a video about cameras, you can really match the advertiser extremely well against the intent of the user when they're watching that video.
That's one way, and that's one reason why it's really important for us to continue to grow our playback of all our videos, whether they're on YouTube or Howcast.com.
The second way we make money is by creating content for large brands. We've done a lot of great things for large companies – General Electric (NYSE: GE), Home Depot (NYSE: HD), or Staples (NASDAQ: SPLS). Those companies come to us, asking us to create how-to videos showing people how to use their products.
Those things can be useful for a variety of reasons whether it's marketing a new product that they're launching, or helping users understand existing [products]. Videos have proven to be a really instrumental way to educate consumers. These brands obviously recognize the quality of our content and understand the value that we bring to the table. It has been a really nice source of revenue.
Do you have a favorite campaign or one you're looking forward to in the future?
Sanjay Raman: I think one of the most important and most impactful campaigns we've done recently was with GE called Tag Your Green. What we've been able to show there is that we can not only create content but we can engage YouTube stars to produce content and engage their community as well. We're actually merging content creation with a sense of social marketing and tapping into the power of existing YouTube celebrities to get the message out, and it's been hugely successful.
Online video seems to be taking over the principal form of the way people get their entertainment and information. What do you think of the future of online video content?
Sanjay Raman: Video is growing really rapidly. I've been in this space for about five years working at Google to YouTube and now Howcast. Video has become a seamless part of the web and mobile experience. We're really well-positioned to take advantage of that.
Online video has been one of the major trends on the Internet. Are there any other trends you see coming up in the future?
Sanjay Raman: Yeah. I think there are a couple things. (1) Media consumption is starting to shift from desktop to mobile environments. That's why we've invested heavily in developing mobile applications that are really powerful and robust. A lot of consumption of video is happening on these mobile devices 'cause they're always on, always connected, always at your fingertips whether you're traveling or on a bus or whatnot. We're really focusing on building a mobile platform for our content to be exceptional on mobile devices.
(2) The unification of the large TV screen experience with the Web experience. I think we're starting to see that with products like Boxee or even Google TV. I think it's really important for us to have content that plays through those platforms. I think we're in the early stages there. Once there's the unification of the large screen and the Internet, there's going to be some new opportunities to build some robust experiences.
There's some talk of Silicon Alley in NYC challenging the dominance of Silicon Valley. As a company with offices in both locations, what are your thoughts on this alleged competition?
Sanjay Raman: I don't really think there's a competition. Honestly, it's great that there can be startup companies in both areas.
One of the things that we did with Howcast when we launched the company was we needed two offices because we do a lot of different things. And we're a really a core technology company, hiring engineers, designers, and product people. The abundance of talent, those people are in San Francisco. Not to say that you can't find them in New York, which some companies clearly have. But [San Francisco] is just a nice area to make sure we have our foot in the door.
As far as New York is concerned, we do a lot of advertising – creating content from writers, producers, other people. It makes sense for us to be tightly aligned to those things, including the ad community, to be in New York.
We're giving you the loudspeaker now to break any news, draw attention to anything that's not getting sufficient attention in the media, or really just sound off on any issue you care about.
Sanjay Raman: We're at a great time with Twitter and Facebook. It's very rare that there's news that's not being reported. In fact, it's probably hard for someone like myself to keep up with everything. I wake up everyday and my Twitter feed is filled with things that went on during the night.
What was the best and what was the worst investment decision that you've ever made?
Sanjay Raman: I think the best investment was a personal one tied to a job I took at Google. It's not really an explicit investment. But being tied to that company and getting equity in that company as you work there has been a great investment.
My worst investment must have been in 2000. I invested money in Qualcomm (NASDAQ: QCOM). Whatever I invested, I lost. It was really easy to get caught up in the stock market at that time. I've learned a lot since that time.
Posted-In: Benzinga Podcast Howcast Sanjay RamanMovers & Shakers General
View Comments and Join the Discussion!