Exclusive: Interview with Renaud Laplanche, CEO of Lending Club, Part 1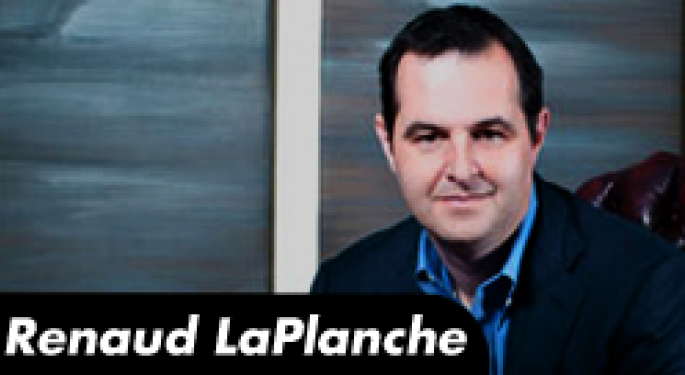 Welcome to Zing Talk, where Benzinga brings you the biggest names and brightest minds from Silicon Valley to New York City.
Today our guest is Renaud Laplanche, the CEO of Lending Club. How are you doing today, Renaud?
Renaud Laplanche: I'm good, thank you.
Good. Can you start off by telling us about Lending Club?
Renaud Laplanche: Sure. Lending Club has created a platform that originates loans to prime consumers online and lets investors invest in the loans directly at a time of origination. It really has created the shortest possible path between the source of capital, individual investors, and the use of capital to individual people and small businesses. As you know, when you create a shorter path you create some savings. Really, that's what Lending Club is about – creating savings that we pass on.
Can you give us an example of how Lending Club's peer-to-peer lending works?
Renaud Laplanche: There are two sides to it. You can either apply for a loan or invest money in a loan stake and buy other members. If you're applying for a loan you go online and fill out an application and you get an instant decision and interest rate that you qualify for, which is typically lower than the alternatives – credit card or bank loans. Then you list your loan on the Lending Club website for a period of one to two weeks, during which time your loan is offered for investment to investors.
On the other side, you show an investor, I'm not happy with the 1 or 2% that I'm earning on the Citi (NYSE: C) account. But you don't want the volatility of the stock market. Lending Club offers an alternative which is going online and creating an account, the same way you would open an account with Schwab (NYSE: SCHW) or E*TRADE (NASDAQ: ETFC) or any brokerage account.
You transfer money from your bank account to your Lending Club account and start investing in loans and really create a portfolio of loans made to prime consumers, who qualify for a Lending Club loan, which is typically the top 10% of applicants by credit score. So it's a prime pool of consumers you're investing in and you're able to diversify your investments across different borrowers and invest as little as $25 into each loan, so that even with a $2,500 investment, you can already invest in 100 different loans.
This is an innovation that has the potential to truly revolutionize the financial industry. I mean, they're completely taking traditional banks out of the lending process. What sparked the idea for this sort of service?
Renaud Laplanche: Frustration as a user. The idea came the first time I opened my credit card statement and really paid attention to the interest rate I was being charged on the credit card. I discovered I was being charged an 18% rate on the balance. I'm a good credit risk – I don't think I'm going to default on my credit. And I felt that 18% was a very high interest rate.
If I'm paying 18%, that means someone on the other side is earning 18%. That's a very good investment opportunity in a very low-interest rate type of environment. That's really where I started the idea and that's what Lending Club is all about – cutting down on intermediary costs, on banking costs.
So instead of borrowers paying 18% on their credit cards, and investors or depositors earning 1 or 2% on Citi, Lending Club offers the opportunity for borrowers to pay 13 or 14% interest rate, and for investors to earn, on average over three years, about 9.5%.
There are always concerns about doing business with a new type of service, especially one that involves your personal information and financial well-being. How do you allay the fears of wary investors and borrows that you're as safe as buying a bond or going to a bank?
Renaud Laplanche: You're right. It's an adaption curve that we're going through. I think what happens is that, as the ratings come in from our user base, and all the chatter online on social networks and blogs, with early investors and early borrowers talking about their experiences, has been very positive and is really helping the mass-market look at Lending Club as a new but safe alternative.
On the borrower side it's no different from online banking. We have all these anti-bot, anti-phishing technologies you can expect from an online banking service.
On the investor side, there are certainly risks tied to investing. Lending Club notes that you're buying an unsecured loan. So there are risks, but these risks can be appreciated in the context of [an investment or loan]. We give a tremendous amount of data on the website that helps investors really appreciate the risks and returns made for Lending Club.
Do you see Lending Club as a supplement or a replacement to traditional banking?
Renaud Laplanche: Certainly a supplement at this point, and we're hoping as a replacement longer-term. There are a number of services we don't offer today. So we're focusing on personal loans today, and that's only one part of the services you can get from a bank.
We are not referring credit cards, debit cards, checking accounts, auto loans. But we do have plans for many of these products as long as [we fulfill] our mission of bringing responsible lending to prime and responsible borrowers, and then on the investor side present a risk/return equation that fits our investor's appetite.
Lending Club really brings Web 2.0, so to speak, to finance in a way that's very rare as people are generally quite reluctant to change the way they handle their money. Why do you think Lending Club has had such traction? Do you think the disappointing returns over the last 10 years in various markets have contributed?
Renaud Laplanche: I think so. There are two things. First there's the rational [thought], that we are in a very low-interest rate environment that has cut down on the earnings possibilities for investors. You get pretty much no interest rate, very low yield on bonds. Even high-yield bonds return 6 or 7% – nowhere near the 9.5% you can earn with Lending Club.
On the flip side, credit card rates remain at an all-time high. So if you're a borrow you're seeing 18% interest rate on your credit card. So there's a very big spread, and that's really what's fueling Lending Club's growth. Right now we're growing 5 to 10% month to month.
Part 2 is available here.
View Comments and Join the Discussion!
Posted-In: Benzinga Podcast renaud laplancheMovers & Shakers General