Interview With Brad Feld - Serial Venture Capitalist and Entrepreneur - Zing Talk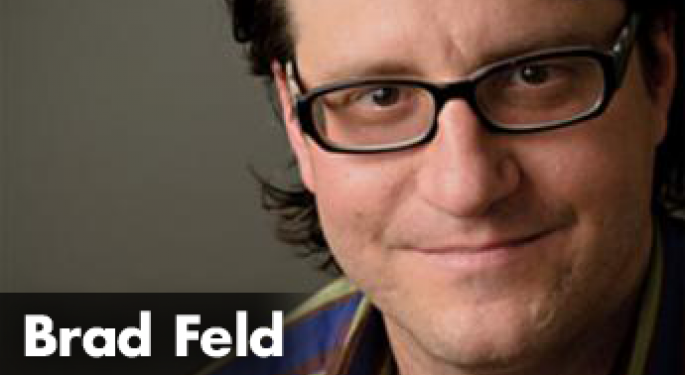 Hello and welcome to Zing Talk, where Benzinga brings you the biggest names and brightest minds from Silicon Valley to New York City. Today we're doing things text-
style and bringing our readers an email interview with Brad Feld.
Brad is what you might call a serial venture capitalist and entrepreneur with a portfolio consisting of a number of interesting companies, including Zynga, the company behind the popular Facebook game Farmville.
1) Brad, could you start off by telling us a little bit about yourself and what you do with Foundry Group?
I'm one of the four managing directors in Foundry Group, an early-stage software/Internet venture capital firm. While the four of us are based in Boulder, CO, we invest throughout the US. I'm also one of the co-founders of TechStars, a startup accelerator active in Boulder, Boston, Seattle, and New York that my partners and I support.
2) This isn't the first venture capital firm you've been involved with, or even outright founded. What makes Foundry Group different than the others?
Foundry Group is very focused on a set of themes (human computer interaction, glue, protocol, distribution, and digital life) that we describe in depth on our web site. All four of us work across all of these themes - we work as a team on everything we do.
3) Why did you launch these new firms separately rather than integrating them into one of your previous ones?
Different partners, different strategy.
4) A lot of entrepreneurs come to you for funding, but only a few get chosen. What is the number one thing that you look for when evaluating an idea?
Team. We only invest in themes that we know well, so most of our exploratory energy is around the people.
5) What is the most interesting company you've ever invested in?
The fastest growing is Zynga (www.zynga.com). The most intellectually complex and forward looking is Oblong (www.oblong.com)
6) Now I know you sit on the Board of Directors for a lot of the companies you're invested in. Do you play an active management role or are you more of a hands-off advisor? How do you handle conflicts between the entrepreneur's
vision and what you'd like them to do as an investor?
I'm an active board member with a single philosophy - I do whatever the entrepreneur(s) and CEO want me to do to help them win. This varies a lot by company.
7) You recently blogged about how you believe that "the way we interact
with computer technology will be radically different 20 years from now."
Could you elaborate on that? How do you see the man-machine relationship
evolving?
The idea that we'll use a mouse and keyboard to interact with computers in 20 years is silly. Many of our investments in our HCI theme anticipate this. You'll see another one from us in a few weeks in the HCI theme focused on "human instrumentation." While today it's a device, in 20 years it'll be something we swallow.
8) You're not shy about highlighting annoying buzz phrases from companies like "we're in the X space" or "we're a platform for Y," as you mentioned in another post on Feld.com. Anything else a potential entrepreneur should avoid saying to you?
"I'm being conservative with my numbers" and "I have a patent" are two other phrases that are silly.
9) I saw another post of yours about how you could care less about who says what is "dead" — be it email, the web, etc. Instead of asking what you think is "dead," I wanted to hear your opinion on what new things might be on the rise, or perhaps experiencing a rebirth?
I think the meme "X is Dead" is stupid. According to this meme, email has been dead for a long time. Whatever. I think we are on the edge of radically rethinking our communication patterns as humans. Teleportation isn't here quite yet, but we are finally only a few years away from ubiquitous video conferencing.
10) Okay, now that the hard questions are out of the way, we have a few fun ones we ask all our guests on Zing Talk. What was your first, and what was your worst job?
Easy: First job was maintenance guy at my racquet club when I was 14. I got fired. Next job was at a fast food restaurant called Potatoes etc. Fired again. Both jobs sucked.
11) What do you like to do outside of your work? Any hobbies?
Run, read, hang out with my wife Amy.
12) What is your favorite restaurant that you've ever been to?
Masa in NY. Guy Savoy in Paris is a close second.
13) Do you have a hero?
Yoda.
14) Tell us something about Brad Feld that no one's asked you about in an interview.
Is your index toe longer than your third toe (e.g. Morton's foot). Yes.
15) What was the best, and what was the worst investment decision you've ever made?
I'm hopeful these are both in front of me!
Thanks Brad. That'll do it for this episode of Zing Talk. Remember to check out www.benzinga.com for more market-moving information, insightful commentary
and actionable trading ideas.
View Comments and Join the Discussion!
Posted-In: Benzinga Podcast Brad Feld farmville Zing Talk ZyngaMovers & Shakers General