Barron's Interview With Ray Dalio Of Bridgewater Associates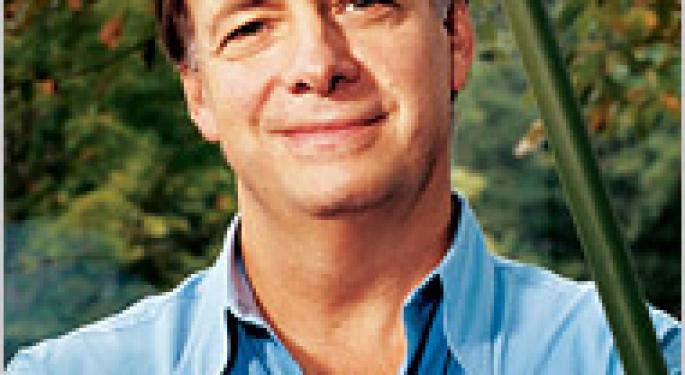 Bridgewater Associates is an asset manager with approximately $75 billion in global investments for a wide array of institutional clients, including foreign governments and central banks, corporate and public pension funds, university endowments and charitable foundations. Barrons recently spoke with Bridgewater's founder, Ray Dalio about his outlook on the markets.
Dalio said that as a result of government intervention and quantitative easing, the stock market retraced about 60% of its 2008 decline and the U.S. economy retraced 40%, but "it did not produce new financial assets. There has been very little new lending. The stimulus produced very little in the way of new economic activity."
Dalio said that he thinks between now and 2012, the economy will experience another setback and that it will be important for monetary policy and fiscal policy to be stimulative, and for the Federal Reserve to be able to purchase assets again. He said that this will be difficult, however, because such efforts have become "politically untenable."
Furthermore, Dalio believes that the next recession will come sooner than under normal circumstances, where recessions occur about every five years. He said "for various reasons related to the size of the debt, the next recession is going to come sooner."
Dalio touched on the European sovereign debt situation, saying "the European situation is a particularly risky one for a number of reasons. One, the size of the debt dwarfs that of any other debt crisis. It dwarfs the Latin American crisis. It dwarfs the Asian Contagion. These are enormous, enormous amounts."
The Bridgewater founder said that emerging markets are attractive right now. He said that "the emerging world has not reached its debt limits and is competitive because labor is cheaper and there are high levels of investment. They're roaring ahead."
Dalio said that his firm's portfolio is mostly skewed to Treasury bonds, gold, and emerging-market currencies, especially Asian currencies. He said that "I want to minimize my exposure to the major developed countries' currencies - the U.S. dollar, the euro, the British Pound, and the yen. - because those countries have a lot of debt, and they are going to need to print more and more money and will have sluggish growth rates."
Contrary to a number of other prominent investors, Dalio does not believe that monetary printing will cause inflation. He said that "the printing of money will offset the deflation that is coming from the weak demand for goods and services due to weak credit growth."
Posted-In: Bridgewater Associates Ray DalioBarron's Hedge Funds Movers & Shakers Media General
View Comments and Join the Discussion!