Alibaba IPO Fever Invades Benzinga
The speculative fever over the Alibaba (NYSE: BABA) IPO has reached epidemic proportions. So much so, that the entire Benzinga office is participating in a pool to predict the closing price of the hottest IPO ever to hit Wall Street.
Mega-Bull
As expected, the bulls and bears are running rampant in the office (leaving droppings everywhere). Graphics intern Erin Colombo is forecasting nearly a doubling from the opening price, coming up with the office-high prediction of a closing price of $168.00.
Veteran Trader - Bearish
The lowest prediction resides with Benzinga's Pre-Market Prep co-host, Dennis Dick, who is calling for a decline off the open, but expects the underwriters to defend the issue near its original pricing range and is calling for a $68.05 closing price.
Evan Brandoff, head of Benzinga advertising, is the second most bearish and will cash in on a close a bit higher at $69.05.
Managing Editor Joe Young is another $1.00 higher at $70.00.
Other Bulls
Bullish, but not as bullish as Erin, is marketing guru, Kenny Wohl, who is looking for $121.2167 close. Obviously, the High-Frequency Marathon on this morning's show is factoring into his pricing as he went out four decimal places with his prediction, even though the exchanges only use two decimal places.
Always super-bullish VP of Sales, Matt Kolb, comes with the third highest prediction and a $111.00 closing price.
The Champion Casts Her Prediction
Reigning prediction pool champion and marketing queen Sarah Knapp, who nailed the closing price on Twitter (NYSE: TWTR) when it swooned nearly $16.00 on February 2, has predicted a closing price of $89.00. Sarah will not reveal her complex pricing formula to the office as of yet.
She is flanked by a large portion of the prognosticators who are clustered all from the low $80s to the upper $90s.
COO Fernando Prieto remains bullish from the open, and has chosen the nice even number of $100.00 as the closing price.
News Desk Bearish From Open
Interestingly, much of the Benzinga News Desk is calling for a decline from the open and predictions are splattered in the $70.00 and lower $80.00 handles.
The outlier is analyst Garrett Cook, who has pegged $98.50 as the closing price.
Overall, there are three predictions at $70.00 or under, five predictions in the $70s, seven who are playing it close the belt in the $80s, three in the $90s and four bulls predicting a close of $100.00 or better.
Benzinga founder, Jason Raznick, calculated a $93.50 closing price for the issue.
It should be noted: All of these predictions came in right before the 10:00AM pool deadline for participants.
The "official" list: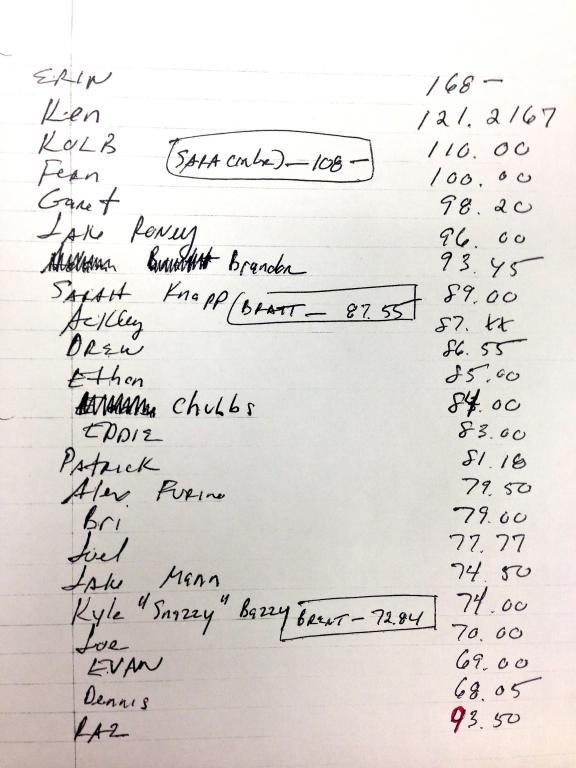 Posted-In: Alibaba IPO BenzingaMedia
View Comments and Join the Discussion!