Exclusive: Nautilus CEO Bruce Cazenave's Insight On Two Key Businesses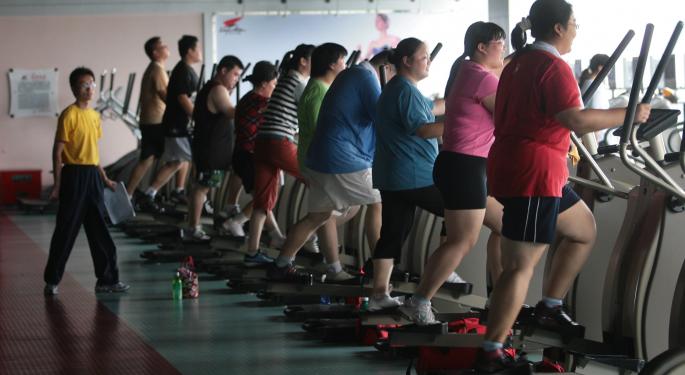 In an exclusive interview with Benzinga, Nautilus (NYSE: NLS) CEO Bruce Cazenave discussed his company's two most important business lines.
Shares for the health and fitness equipment manufacturer jumped 11 percent after the company announced earnings of $0.07 per share last week compared to the estimate of zero. Revenue topped Wall Street's expectations by 13.2 percent.
Direct Sales
Direct sales make up two-thirds of Nautilus' business. Last quarter's growth was led by the new Bowflex MAX Trainer product line.
"All you do is: You have to work on it for 14 minutes, and in 14 minutes, you will burn more calories than you would probably in an hour on treadmill," said Cazenave, explaining the secret to the line's success.
After three years of development, the chief executive explained that the Bowflex MAX line is an example of Nautilus' development prowess. The product line has was developed directly in response to consumer sentiment (time commitment and motivation were two factors taken into account) and is the recipient of design awards.
Related: Robert Shiller Voice Concerns Over Current Valuations
Retail
Although retail sales make up just 31 percent of Nautilus' business, it is the fastest growing line.
"If you go back to our Q3 results in 2013, you will see a 70 percent increase," Cazenave said.
Nautilus sells directly to consumers through partners such as Amazon, Dicks Sporting Goods and Walmart. With just 2 percent market share, Nautilus emphasises massive market share growth potential in its investor presentation.
Growth was led by a new Schwinn cardio line, which, like Bowflex MAX, was built from the ground up.
"We are layering in more new products under the Nautilus brand. They have similar designs, but they look different and have different step up capabilities … then we are introducing treadmills under the Schwinn and Nautilus lines that will start shipping in fourth quarter roughly."
Looking Forward
Nautilus is bringing technology far beyond a watch. Stay tuned for the second part of this series where CEO Bruce Cazenave discusses the first smart dumbbell.
Shares of Nautilus were last trading at $12.25, up 45.3 percent year to date.
Posted-In: Bowflex Bruce CazenaveInterview Best of Benzinga
View Comments and Join the Discussion!