Exclusive: Eric Stutzke on How Finance Professionals Can Get an Edge with OneWire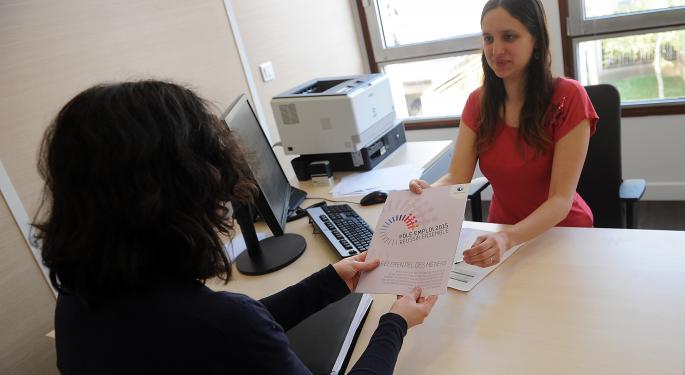 Being first isn't just for astronauts or athletes, it's also an important goal for finance professionals.
Whether you want to work in the finance department of Nike (NYSE: NKE) or do M&A at Goldman Sachs (NYSE: GS), whether you've just graduated college or are an industry veteran, OneWire can make you the first to hear about the opportunity, the first in line for the spot and, ultimately, the first to land your dream job. 
In an interview with Benzinga, Eric Stutzke, Executive Vice President of Finance and Operations at OneWire, introduces the company's newest service: the OneWire Edge. Stutzke says the vision behind the Edge is to "provide candidates with insight and analytics into their job search...and we really wanted to build a tool that helps give folks that 'edge' in the process".
The Edge offers job seekers a holistic job hunt tailored specifically to their needs. After surveying over 325,000 OneWire members, four main demands for the ideal recruiting strategy emerged:
Premium Status: You'll be highlighted to stand out and above the other candidates and be pushed to the top of the inboxes of all the right people.
Profile Views: If someone views your profile and takes an action, you'll be the first to know. Transparency replaces bureaucracy.
Instant Alerts: Feeling like an overachiever? You'll be the first to know about new slots in your desired companies and apply to them.
Competition Reports: You'll gain access to candidates' educational backgrounds, work experiences, skills and much more. Don't be blindsided by the competition ever again; outmaneuver them instead.
For those aiming to move within their industry to aspirational job seekers, the Edge can help to put you at the top of the the list.
Stutzke offers up this scenario: "I'm a senior accountant today... I can actually look at the competition report for controllers and say that's what I want to be next...what's the molding or the skill set that comes with that person?"
The answer lies within the Edge. It can help position you for success, prepare for it and make it well within your reach.
Unlike other job-seeking tools like LinkedIn (NYSE: LNKD) Premium Accounts, the OneWire Edge is not a sales tool; it prioritizes confidentiality and credibility.
"You know your profile is not being indexed by third party search engines and you're not going to be searchable on the world wide web," explains Stutzke. "You know when you're going to be contacted, you're going to be contacted by a real employer, who has a real job and is a real recruiter."
It's really a VIP service for job seekers and not just in the financial services sector.
"Certainly our core strength is within the financial services sector," Stutzke adds, "but ultimately over time we are set up to attack every single vertical out there...financial services, consumer goods, internet technologies...but we slice across those industries horizontally and just focus on the finance people within."
With more than 500 companies to choose from, finance, technology and other professionals alike can leverage their strengths to get that deal-making edge. Getting the holy grail of finance jobs has never been more affordable. Choose from a one, three or 12 month subscription for $19.95, $39.95 or $95.95 respectively with all the same perks.
For the Edge, the bottom line isn't just focused on building a successful career. "It's essential that you listen to your clients and understand what their needs are because each client is different…the only way for you to truly understand what the need is, is by having a conversation", says Stutzke.
It's about keeping the lines of communication open and constantly adapting to the changing needs of the client to improve their positions.
For more information about OneWire Edge visit: OneWireEdge.
Posted-In: Eric Stutzke Goldman Sachs Nike OneWire OneWire EdgeInterview Best of Benzinga
View Comments and Join the Discussion!