Here's What I Observed At Amy Coney Barrett's Rose Garden Ceremony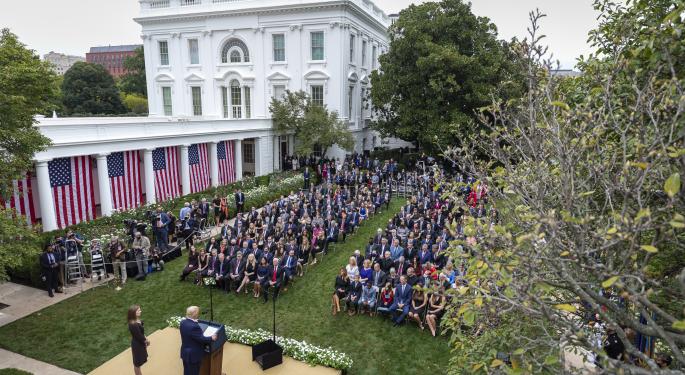 When I decided to attend President Donald Trump's announcement of his nominee to the Supreme Court to replace the late Justice Ruth Bader Ginsburg, I thought it would be a great opportunity to provide Benzinga readers with an account of an event that only occurs a handful of times at most during a presidency.
How It Went Down: It was a warm, but humid, Saturday afternoon as reporters, officials and onlookers gathered in the White House Rose Garden.
As we waited in the press room (you have to arrive at these events several hours early), masks and social distancing procedures appeared to be strictly enforced. Reporters were seated in spaced out rows with assigned seats.
As we proceeded to the Rose Garden and were funneled into the press section, maintaining social distancing was no longer viable, but all members of the press in attendance continued to wear masks. About 50% of attendees were already seated by the time the press arrived.
Looking back on the day, a lack of masks is not something that sticks out in my mind. Instead, I remember light-hearted jokes Barrett made, the president's recall of all seven of the judge's children (apparently from memory), and some of the high profile figures attending the event in support of Trump's controversial nomination.
Unexpected Fallout: I didn't notice a lack of masks, because it seemed to me at the time that most of the attendees at the Rose Garden ceremony were wearing masks. It was plainly obvious from my vantage point in the back that several higher-profile figures, such as the president, Attorney General William Barr and former New Jersey Gov. Chris Christie, were not masked up. But it appeared the majority of those in attendance were following the protocol.
It wasn't until I saw pictures of the event taken from the front that I realized almost no one outside of the press wore masks.
Within a week, news came that Trump tested positive for coronavirus. Less than two weeks after the Barrett event, 13 people within Trump's family and close circle of advisors and government officials —including Christie — have now tested positive, and it has become alarmingly clear just how easily a public gathering can turn into a superspreader event during this pandemic.
Photo by Luke Jacobi.
How To Avoid A Superspreader Event: I tested negative for the coronavirus with a rapid test on Sept. 28 and Oct. 6 and have been symptom-free in the 11 days since the event.
Health experts are learning more about the novel coronavirus by the day, but there are some general red flags everyone should watch out for to avoid a potential superspreader event.
First, superspreader events typically involve indoor venues. However, the Rose Garden event took place outdoors, so close contact and unmasked conversations are far from a safe bet — even outdoors.
Health officials also say the virus is much more likely to spread when an event involves mingling, talking or singing, which can help aerosolize the virus.
Finally, social distancing, frequent hand washing and use of hand sanitizer can help minimize the risk of becoming infected even if you are exposed to the virus.
Lead image: President Donald Trump announces Judge Amy Coney Barrett as his nominee for Associate Justice of the Supreme Court of the United States, Sept. 26, 2020, in the Rose Garden of the White House. (Official White House Photo by Amy Rossetti)
View Comments and Join the Discussion!
Posted-In: Amy Coney Barrett Donald TrumpGovernment Politics Opinion Exclusives General Best of Benzinga