Amazon Confirms Alexa Recorded, Shared User's Conversation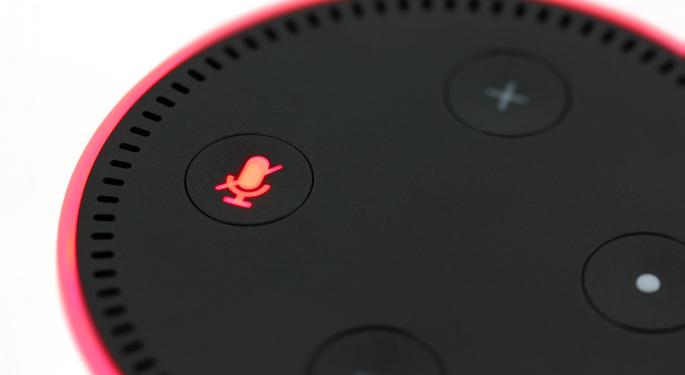 Online privacy and data protection remain key themes for investors in 2018, and Amazon.com, Inc. (NASDAQ: AMZN) is dealing with another potential privacy issue Friday. The company confirmed that one of its Echo devices accidentally recorded the private conversation of a family and sent that recorded conversation to a random person in their contact list.
Amazon Responds
The Echo misinterpreted words spoken during the conversation as commands, according to Amazon. Amazon issued the following statement, according to CNBC.
"Echo woke up due to a word in background conversation sounding like 'Alexa.' Then, the subsequent conversation was heard as a 'send message' request. At which point, Alexa said out loud 'to whom?' At which point, the background conversation was interpreted as a name in the customer's contact list. Alexa then asked out loud, '[contact name], right?' Alexa then interpreted background conversation as 'right'. As unlikely as this string of events is, we are evaluating options to make this case even less likely."
After being notified by the contact of the audio file, the family proceeded to unplug all of the Echo devices in the house.
Not An Isolated Incident
The incident isn't the first time an Echo has demonstrated troubling behavior. In March, Amazon confirmed that Echos have been spontaneously bursting into laughter because they have been misinterpreting background noise as instructions to laugh. Amazon said these incidents occur in "rare circumstances."
Online privacy has been a hot-button topic in the tech world in 2018 after it was reported that Cambridge Analytica gained unauthorized access to the data of millions of Facebook, Inc. (NASDAQ: FB) users during the 2016 U.S. presidential campaign. On Friday, Europe enacted the General Data Protection Regulation, a new set of rules requiring that online companies obtain a higher level of consent to collect and use personal data.
A New Type Of Security Threat?
While the Echo conversation recording incident appears to be harmless, security firm Checkmarx reportedly easily hacked an Echo device earlier this year and used it to spy on a third party. Amazon reportedly fixed the vulnerability, but the potential security threat posed by smart speakers will likely be an area of interest for regulators if these types of incidents continue to occur.
Related Links:
Bernstein: Amazon Flex Is No Threat To FedEx, UPS
Analyst: Trump Administration Even Less Likely To Pursue Antitrust Action Against Google Than Obama
View Comments and Join the Discussion!
Posted-In: Alexa Amazon Alexa Amazon EchoGovernment News Regulations Tech Media Best of Benzinga