North Korea Cancels Talks With South Korea, But Markets Hold Steady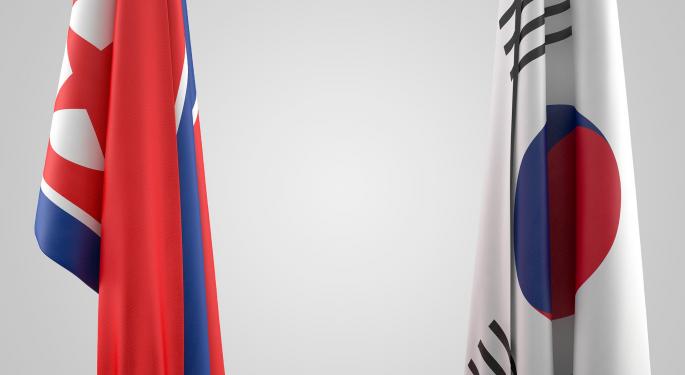 North Korea abruptly cancelled high-level talks with South Korea scheduled for Wednesday, according to a report by Yonhap News. The North also threatened to cancel the upcoming summit between Kim Jong Un and U.S. President Donald Trump, citing ongoing Max Thunder drills between the U.S. and South Korean air forces.
Military drills are a regular complaint by North Korea, which sees them as rehearsals for an invasion.
The news is a reversal of North Korea's recent conciliatory behavior. Just Tuesday morning, the country's ambassador to the United Nations announced it will join global efforts to ban nuclear weapon tests and analysts reported on Monday that satellite imagery seems to show nuclear test sites being dismantled in an apparent gesture of goodwill.
What This Means For Investors
Without further details, it's hard to say how the markets will react, but so far the news doesn't seem to be cause for concern. The S&P 500 ticked down by less than half a percentage point following the news while the price of gold held flat.
The S&P 500 closed at 2,711.45, down 18 points. The Dow closed at 24,706.41, down 193 points or 0.8 percent.
The VIX did rise about by 3.5 percent to a daily high of 14.95, suggesting some traders were spooked by the news, but the volatility index had been creeping slowly for most of the day prior to the news. Generally, volatility isn't considered a concern until the VIX breaches 20, making Tuesday's level still fairly low.
Investors should continue to watch for the introduction of headline risk as the week progresses, particularly as further news on the Kim-Trump Summit emerges.
Related Links:
Summit Helps, But South Korea Still Faces Regional Tensions
After 65 Years, North And South Korea Will Formally Bring An End To The Korean War
View Comments and Join the Discussion!
Posted-In: Donald TrumpGovernment News Futures Politics Global Markets General Best of Benzinga