Hespen Rally: Car Lovers Unite To Honor Fellow Enthusiast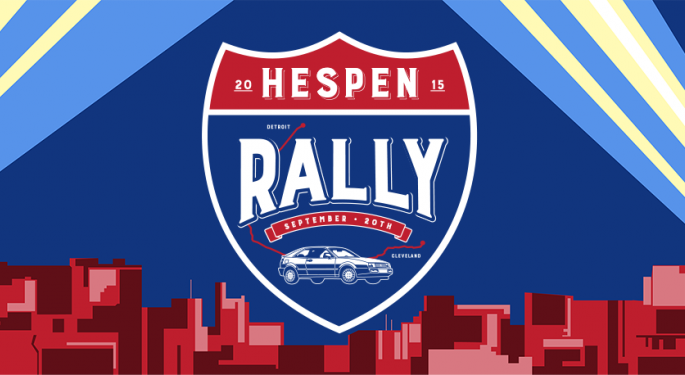 The automotive community is a unique one.
Regular folk might not realize though that it's also an incredibly close-knit one as well.
The Hespen Rally was created as a fundraiser for bile duct cancer research, an uncommon form of cancer that affects 2,000-3,000 people annually, according to American Cancer Society's key statistics.
What Is The Hespen Rally?
Cleveland, Ohio native Patrick Hespen was a bile duct cancer patient who passed on December 19, 2014 at the age of 36. A lifelong automotive enthusiast with Volkswagen in his blood, his career carried him from automakers Audi, Ford to Fiat Chrysler before being diagnosed.
The first Hespen Rally was organized with sponsors such as Chevrolet, Mercedes-Benz, Fiat Chrysler, Nissan, Audi, Brophy, Event Solutions International, Brand Machine, Affordable Housing Advisors, OSG, Event Management Corporation and Pasteiner's Collectables and a bevy of family, former colleagues and automotive journalists who turned up to show their support and make donations to the Cholangiocarcinoma Foundation in Patrick's memory.
Patrick's personal vehicle was included as well, a yellow 1990 Volkswagen Corrado G60 driven by Patrick's wife Gina, that lead the caravan from Birmingham, Michigan to the rally's destination in Cleveland, Ohio.
We're Here For The Cars
Vehicles were made available to certain members of the media, and Benzinga was offered a 2015 Nissan Juke NISMO RS in White Pearl to participate in the rally. Event Solutions International delivered the car on Friday, September 18 to enjoy for the weekend before picking the vehicle up on Monday.
The NISMO RS comes with a 211 horsepower (215 horsepower on non-AWD models) turbocharged 1.6 liter 4-cylinder engine, Recaro racing seats, all wheel drive and an Integrated Control System that allows the driver to toggle the climate control cluster to double over as the operations interface (otherwise known as "Drive Mode") with push-button modes for Normal, Sport and Eco drive and also heads up information on torque, efficiency, and vehicle systems monitoring. This particular model also sported a price tag of $31,710.00.
Other cars that made the media list included Chevrolet Corvette Stingray, Dodge Challenger Scat Pack, Dodge Viper GTS, Dodge Charger Scat Pack, BMW i8, Mercedes-Benz E63 and several Ford Mustang GTs, while many others brought their personal vehicles, which resulted in about a half dozen Mazda Miatas, some Volkswagen GTIs and Jeep Wranglers, among others.
Road Trip To Cleveland
Local friends and media were instructed to meet up at Pasteiner's Auto Zone Hobbies in Birmingham, Michigan (a neat little store full of automotive-brand reference books and die cast models galore) on the morning of Sunday, September 20 for coffee and doughnuts and to meet and greet before starting the road trip to Sterle's Country House (Michigan natives: think Frankenmuth) in Cleveland, Ohio for lunch and a parking lot car show.
From there, the crew started the caravan on a pre-planned, scenic route (mostly via Route 2 along in the water in Northern Ohio) with blue skies, bright sun and a max temperature of 70 degrees Fahrenheit.
The parking lot at Sterle's Slovenian Country House started to fill slowly, and soon became chock full of brightly-colored, shiny, top-down (where applicable) horsepower-laden machines of beauty, driven by friends and family of the Hespen clan as well as media members from Car and Driver, Road & Track and Automotive News, and also the great people of Brown Dog Welding and Steven Pham Photo.
We'll Be Back Next Year!
The cool thing about this group of people is how excited they all get about the cars. Like the Event Solutions International website says: The car is the star!
The cars are what brought everyone together for this great event in honor of Patrick Hespen and to celebrate his love of being behind the wheel and it was incredible to have the pleasure of participating.
Thank you to everyone for the opportunity, for the great shirts, stickers and the Butterfinger everyone enjoyed on their way home, and special thanks to Craig Daitch of Chevrolet and Jason Ulatowski of Event Solutions International for allowing Benzinga to help support bile duct cancer research and for allowing another car junkie to join in the fun!
Image Credit: Hespen Rally website
Posted-In: Audi Brophy Chevrolet Event Solutions International Fiat Chrysler Hespen RallyTravel General Best of Benzinga
View Comments and Join the Discussion!