Are Automakers Severing Ties With Tesla?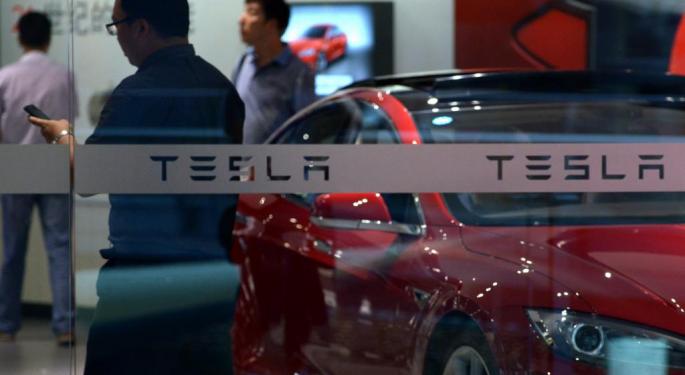 Last week, two big automakers announced they were pulling back on their relationship with Tesla Motors Inc (NASDAQ: TSLA).
Daimler AG (OTC: DDAIY) announced on October 21 that it was both terminating its share-price hedge and selling its stake in the company, while Reuters reported and later confirmed that Toyota Motor Corp (NYSE: TM) had also sold shares.
Tesla's stock has been somewhat volatile since the news, and movements could also attributed to other recent news with Tesla (including a Wall Street Journal report about declining sales and a tweet from CEO Elon Musk).
Benzinga reached out to analysts to see what this might indicate for the electric-vehicle maker.
Lack Of Confidence In Tesla?
Not necessarily.
Edmunds.com Senior Editor John O'Dell told Benzinga that Daimler and Toyota probably feel this is just a good time to cash in on the stock. He thinks the automakers looked at the next couple of years and figured this is about as high as the price is going to get.
"They got their stock at around the $25-27 level mark, I think," he said. "So, if you can make almost 1,000 percent on your investment, 1,002 percent isn't going to make a lot of difference."
Article in @WSJ re Tesla sales is incorrect. September was a record high WW and up 65% year-over-year in North America.

— Elon Musk (@elonmusk) October 28, 2014
Other analysts think the investment was less about capital gains and more about partnering up for technical and engineering purposes. Cars.com Chief Analyst Jesse Toprak told Benzinga that selling the stock indicates to him that Daimler and Toyota are going their separate ways from Tesla in terms of long-term alternative power-train development strategies.
Related Link: Why Tesla Isn't A Car Company
"This doesn't necessarily mean that they lack confidence in Tesla," he said. "It means that each company is now going to try to stand out with their own strengths to obtain a competitive advantage instead of collaborating for the mutual benefits."
It's not unusual for companies to invest in others for technical link-ups and co-learnings, Kelley Blue Book Executive Editorial Director Jack Nerad told Benzinga.
"My sense of this is that both Daimler and Toyota have probably learned what they had to learn or feel like they needed to learn," he said. "They believed that they can function going forward without that connection or without that tangible stock ownership connection."
Taking Different Roads
What is clear is that Daimler's and Toyota's interests lie elsewhere. This past May, The New York Times reported that Toyota will allow its battery-supply deal with Tesla to expire, and instead will shift gears toward working on cars with hydrogen fuel cells.
"Toyota indicated that they are going to put their emphasis on fuel cell technology, which Tesla did not agree with," Toprak said.
Although Daimler is waiting to debut a hydrogen fuel cell vehicle until 2017, Daimler Head of Corporate Research Herbert Kohler told Automotive News in July that the automaker was always sure hydrogen is a realistic option for emission-free driving.
"If you look at what Toyota is doing, and Daimler, they've actually made very big bets on fuel cell electrics, as opposed to battery electrics," O'Dell said. "I never figured that they would tie their future real tightly to an all-battery electric future."
Breaking Up For Good?
This part is less clear. While Daimler sold all of its 4 percent stake in Tesla, Toyota did not disclose the time or the amount of the sale.
Daimler Chairman Dr. Dieter Zetsche said in a company press release that the relationship with Tesla was successful and would continue. A Toyota spokesman told Reuters that the Japanese automaker will continue to have "good relations" with Tesla.
Related Link: Former Fisker CEO On What Tesla Needs For Success
O'Dell said that maintaining links with Tesla isn't a bad idea and probably something both automakers will do.
"Tesla's proven that they know what... they're doing, and if you can use them as a resource rather than hiring your own in-house crew, it's more economical and faster to do it that way," he said.
While Nerad said he's not entirely certain, he thinks it's more likely that the automakers will go their separate ways.
"I think if they want to have a continuing relationship, they would probably maintain the stock ownership as well," he said.
Shares of Tesla are currently trading near $243 on Friday.
Posted-In: auto daimler Elon Musk Tesla ToyotaTravel Tech General Best of Benzinga
View Comments and Join the Discussion!