Travelzoo Or Priceline: Which Is The Better Bet?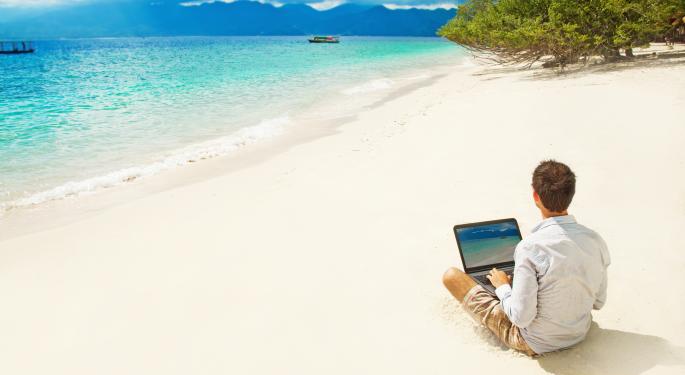 The U.S. economy appeared to rebound significantly in 2013.
It is too early to tell whether or not the U.S. has truly turned the corner, but there are certainly signs that, once again, Americans are finding work and making money. One of the sectors of the economy which depends heavily on the economy is travel.
In general, the better the economy, the better the travel sector will perform. And with the rise of internet-based travel search engines and discounters, travel is now becoming increasingly available to wider sections of the populace. Two of the leaders in internet travel bookings are Travelzoo (NASDAQ: TZOO) and Priceline (NASDAQ: PCLN).
Here we will take a look at how both of these companies comparatively performed over the past year.
Travelzoo started off 2013 at $19 per share. The year was certainly rocky for the company's stock, which is interesting as the company's 1-year stock chart looks like the kind of mountain that investors fear – with a steep drop after a promising climb.
Investors who sold at the top – on July 17 – got out of the stock at peak price of $33. This relates to nearly a 74 percent increase for the year. Investors who held the stock until the end of the year quite literally found themselves on the wrong side of the hill. After its July peak, the stock sold off heavily and finished the year just under $22. This would have represented about a 15 percent gain on the year – far below the market average.
Related: Comcast or Time Warner Cable: Which Is The Better Bet?
It is hard to talk about 2013's stock market "darlings" without mentioning Priceline. The company earned investors tons of cash as the stock nearly doubled over the course of 2013. Starting the year off at $630, the company's stock continually trekked upward throughout the year, with very little volatility or pullback.
Priceline's stock finished the year at $1,160 – generating a return of 84 percent. Considering the S&P and Dow both returned less than 30 percent on the year, Priceline investors far outdid the broader market averages.
Viewing the fortunes of Travelzoo and Priceline side by side is startling. Though the companies offer a very similar product, Priceline provided far more value, on a percentage return basis, to its investors than did Travelzoo. Perhaps this is one of the reasons that Travelzoo announced a stock reverse/forward stock split in late 2013. Most analysts see the split maneuver as a way to reduce the overall number of shareholders, and hence reduce accounting costs. The move appears to be nothing more than a short term fix.
As the economy is expected to continue to improve into 2014, it will be interesting to see how share of the travel stocks react.
Posted-In: Travel Markets Trading Ideas General Best of Benzinga
View Comments and Join the Discussion!