Smart-Eyewear Might Still Be The Next Big Thing In Wearable Tech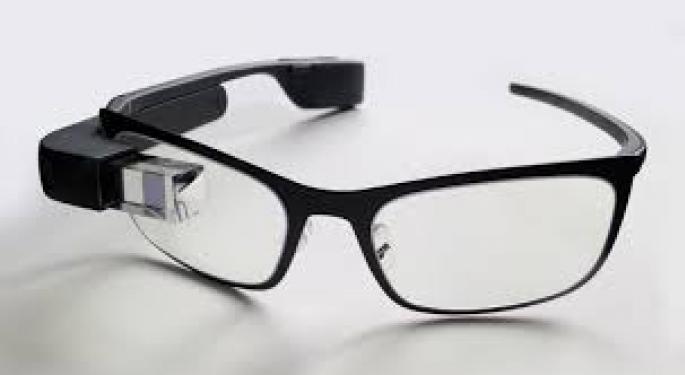 This article originally appeared on DriveWealth.
Wearable tech is not really a new concept, but it has undoubtedly grown by leaps and bounds in popularity over the past few years. Generally, leaders in the field have had success with products such as smart watches. For example, there is the Apple Inc. (NASDAQ: AAPL) Watch, the Fitbit Inc (NYSE: FIT), and Garmin Ltd. (NASDAQ: GRMN) Vivoactive HR. While each of these products has some unique features, they do serve the same general purpose for watch wearers and tech enthusiasts alike.
However, the watch is not the only accessory that tech companies have tried to integrate with "smart technologies." Another market that companies have tried to tap into is the eyewear market. The word "tried" is in bold because…well… quite frankly, there has not yet been much commercial success with "smart eyewear."
For instance, in 2012 Alphabet Inc (NASDAQ: GOOGL) (NASDAQ: GOOGL) project and product, titled Google Glass, flopped as it aimed to lead the path for smart-eyewear products. Despite the highly anticipated release, Google's sales of Google Glass were small due to complaints about technical shortcomings, practicality issues, poor styling, privacy, as well as a steep price point. Eventually, Google determined that the best course of action was to remove the product from the public market and continue working with companies and developers to find better applications for Google Glass in the professional world.
The flop of Google Glass has not stopped companies from continuing to produce smart-eyewear. Perhaps the problem for Google Glass was not the product itself, but rather its intended uses as well as the way in which it was marketed. The world might not be ready for smart-eyewear as a "daily driver," but maybe it is ready for the technology as an "entertainment performance tool" similar to the way car enthusiasts purchase (less than practical) sports cars as "weekend drivers" because they enjoy the thrill of driving.
Here are a few companies that are using smart-eyewear in new and unique ways:
Oakley has been producing and innovating sports related eyewear since its inception. More recently, though, the eyewear giant has broken into the smart-eyewear market with its "Airwave Snow Goggles." These goggles come standard with a built-in heads up display that integrates GPS as well as Bluetooth. In doing so, the goggles are able to give users instant access to information such as speed, vertical drop, distance, and altitude. Additionally, there are preloaded maps, music control, friend tracking, and other features that have yet to be announced. Essentially, Oakley is aiming to advance the entire skiing or snowboarding experience for its customers using more advanced technologies.
Snap Inc (NYSE: SNAP) has been mentioned a lot in our articles over the past few months, but it is not because we have been seeking them out. Rather, Snapchat has simply done a great job of staying relevant and generating excitement. This year, Snapchat has released its first hardware product, the "Spectacles" and it seems to have been received well by customers so far. Their premise is simple; enable Snapchat users to connect with their followers from a "first person perspective." There is no need to pull out your phone if you are only a tap of your sunglasses away from recording videos.
In a more niche market, Empire Paintball is advancing the world of paintball through its collaboration with Recon Instruments. By working together, the two companies have been able to produce the Empire Vision Systems (EVS) mask, which combines smart-eyewear with an industry-leading protective goggle for the first time. The ability to have a heads-up display on the paintball field can put players at a great competitive advantage due to their ability to receive real time information during a game. For instance, coordination between teammates is made much easier due to the use of the field map feature that shows the user real time locations of their partners. The maps are even interactive and allow players to zoom into points of interest in order to improve navigation. In addition, the heads-up display will provide other services such as music control and messaging (if connected to a smart phone). Eventually, this technology might become the norm on paintball fields everywhere.
While companies have struggled to create smart-eyewear that is practical for everyday use, it is clear to see that some companies have been able to find success through focusing on their niche industry (or product use). This technology does not appear to be going away any time soon so when considering new investment opportunities it may be beneficial to explore the future of smart-eyewear. Who knows, maybe it will even be something you personally use soon if you don't already!
Posted-In: DriveWealthTopics Markets Tech General
View Comments and Join the Discussion!