Is This How Skynet Starts? Samsung's Robot Vacuum Can Take Orders From Amazon's Echo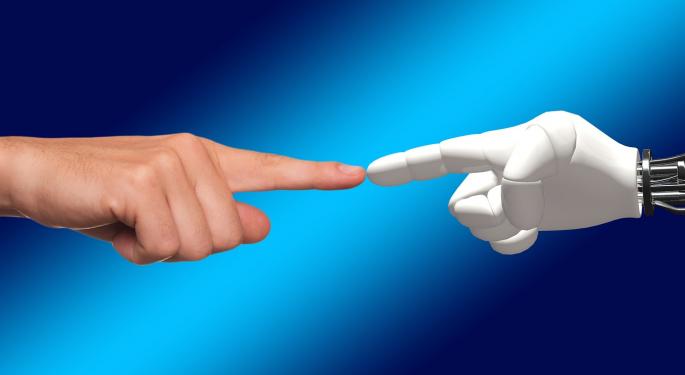 Skynet, the fictional artificial intelligence system popularized in the Terminator franchise, might come to many people's minds once they learn that Samsung's robotic vacuum can be controlled by Amazon.com, Inc. (NASDAQ: AMZN)'s artificial intelligence assistant Echo.
Inter-Machine Communication
Samsung's Powerbot VR7000 is equipped with "several intelligent features that power the unit's automated performance." The vacuum is equipped with maps and sensors and can learn to navigate the contours of a room and avoid obstacles and small items.
The coolest (or most alarming) feature is that the robot is compatible with Amazon Echo using voice commands.
Naturally, no one is saying that the millions of Amazon Echo devices will collaborate with a high-tech vacuum machine to make the artificial intelligence Skynet self aware and initiate a global nuclear war.
The 'Big Red Button': Interruptibility
In the unlikely event that this does become a reality, humans can breathe a sigh of relief, knowing that Alphabet Inc (NASDAQ: GOOG) (NASDAQ: GOOGL) is developing a "big red button," once pressed, will automatically "pull the plug" on all of its self-learning machines.
"Safe interruptibility can be useful to take control of a robot that is misbehaving and may lead to irreversible consequences, or to take it out of a delicate situation, or even to temporarily use it to achieve a task it did not learn to perform or would not normally receive rewards for this," Google's research lab said in its decision to include the kill switch.
Samsung will showcase its new vacuum at the 2017 CES event, which runs from January 5 through January 8.
Posted-In: Amazon Echo artificial intelligence CESTopics Tech Media Trading Ideas General Best of Benzinga
View Comments and Join the Discussion!