Super Nintendo Enters The Real World Alongside Universal Studios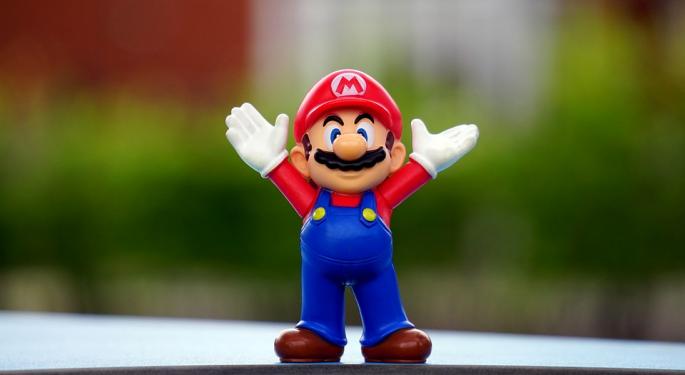 This Article was originally published by DriveWealth.
If you thought Nintendo Co., Ltd (OTC: NTDOY) couldn't top Pokémon Go, think again. In fact, an announcement this week officially made 2016 one of the most exciting years in recent history for Nintendo fans and Universal Studios fans alike. On Monday, Nintendo announced that it would be joining forces with the team at Universal Studios to unveil the world's first ever Nintendo-based theme park, linked with the existing Universal Studios parks in Japan, by 2020. But, better yet, if you weren't thinking of flying to Japan any time soon, you can hold off on buying your plane tickets. The Universal Studios parks in Orlando and Hollywood will also be creating Nintendo themed parks, set to open just after the one in Japan.
In the press release from Universal Studios Japan, the partnered companies announced that the park, dubbed Super Nintendo World, would consist of "state-of-the-art rides, interactive areas, shops and restaurants, all featuring Nintendo's most popular characters and games." This includes characters such as Mario and Luigi from the extremely popular "Super Mario" series, which has been a continual fan favorite since its release in 1985. So, the theme parks will be especially appealing to millennials who were raised in the Nintendo gaming craze. The creative team from Universal even announced that the three parks will aim to immerse customers "completely, engaging all five senses in the worlds of Nintendo." Ever wanted to see Bowser's Castle? Probably. Ever wanted to smell Bowser's Castle? Probably not, but here's your chance!
So, the next question (we mean, aside from how cool you think it'll be to meet Yoshi and race real-life Mario Kart cars) is: how will this development affect the two companies it concerns?
In Universal's release of its plans for the creation of the three parks, the entertainment company highlighted its plan to spend more than 50 billion yen ($434 million) on the development of rides and attractions. Obviously, Super Mario World is no small undertaking. This is not a joke, people. Furthermore, if we're still talking about Universal's huge investment in this park, we should also consider that the announcement of Super Mario World means Universal will not only have to pay to develop the park, but will have to hire plenty of employees to run the attractions full time. Like, 1.1 million of them. Yep, definitely no small undertaking.
In fact, this expenditure plan puts Nintendo World on the same scale as the recently released (and highly successful) Wizarding World of Harry Potter. For some context, after the opening of the Wizarding World of Harry Potter in April 2016, sales of Universal Orlando's one day passes went up significantly, and wait times for rides decreased (as the park now has more space overall). So, Universal hopes for a similar response upon the opening of Super Nintendo World.
But, what exactly will Universal and Nintendo get out of this huge investment in terms of cash flow? Although that number is hard to predict, the companies did predict that the economic benefits brought to Japan as a whole are expected to be nearly 11.7 trillion yen ($101 billion) from the development of Nintendo World, just at Universal Japan. Not exactly pocket change, if you ask us. And that's without even factoring in the numbers for the park's American locations.
Lastly, the decision to open in Japan by 2020 is extremely timely. Why's that? Well, it would be hard to overlook the effects of the summer Olympics in 2020 that will be hosted by none other than Tokyo, Japan. Tons of tourists and new theme parks aren't exactly a bad combination.
So, all eyes are now set on Universal Studios, owned by Comcast Corporation (NASDAQ: CMCSA) and Nintendo (which trades as 7974 on the Tokyo Stock Exchange) to see how this major direct investment will pay off. Do you think Super Nintendo World will eventually prove successful for both companies, or do you think this could be a "mama mia!" Mario moment to forget about? Stay up to date and consider your investments accordingly!
Posted-In: DriveWealthTopics Travel General
View Comments and Join the Discussion!