Film Franchises: The Art Of The Long Game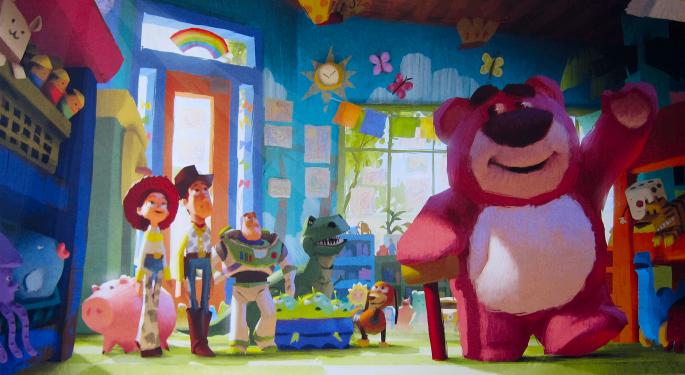 "Toy Story 4" will mark 20 years of "Toy Story" from Walt Disney Co (NYSE: DIS) and Pixar, adding to a long heritage of franchises and characters that make their way onto the screen after years of inaction, both from Disney and elsewhere.
Take "Maleficent," which pulled in $241.3 million at the box office and currently holds the position as the top selling at-home movie in the country. That franchise dates all the way back to 1959 with Disney's animated classic "Sleeping Beauty," but it's not just fairy-tale characters and talking toys that soak up adoration and money from fans new and old.
Sci-Fi Longevity
Science fiction franchises have had a wealth of success with longevity, some of which comes from their place in popular culture creating a presence with merchandising and other tie-ins. "Star Wars," "Star Trek" (owned by Viacom, Inc.) and the now-again immensely popular "Planet of the Apes" (owned by Twenty-First Century Fox Inc) franchise have all had big wins in this department from their conception forward.
Related Link: 'Interstellar' And The Highest-Grossing Movie Openings That Didn't Make No. 1
"It's mostly about merchandising. 'Star Wars' pioneered that; if you can sell enough toys, books, video games and Halloween costumes in the gaps between films, you'll already have a consumer base built in," Max Kyburz, film writer for Tiny Mix Tapes told Benzinga. "The idea is to completely familiarize your audience with the iconography. So by the time your next movie comes out, you won't have to worry."
Other iconic characters such as Indiana Jones or superheroes like Batman and Superman also have this kind of pull and are as lucrative in their other mediums when on a high popularity kick. With many franchises, such as superhero mutants X-Men pushing 20 years, it's easy to see why the dollar signs keep them alive at the box office and beyond. "X-Men: Days of Future Past" just had three pleasant weeks topping at-home movie sales. These movies offer big-budget CGI spectacles that also work as character-driven dramas, featuring characters with deep histories and rich personalities established on- and off-screen.
"The major, spectacle-driven franchises from the 1970s, 'Jaws' (1975), 'Star Wars' (1977) and 'Superman' (1978), among others (certainly the 'James Bond' series from the previous decade), relied upon classical Hollywood approaches, but also mobilized an ever-growing and more sophisticated special effects apparatus," Wayne State University film professor Nicholas G. Schlegel, PhD told Benzinga.
Dr. Schlegel continued, "Fantasy, sci-fi and horror experienced a major renaissance with the perfection of makeup effects (prosthetics, bladder, latex) and George Lucas' pioneering special effects company, Industrial Light and Magic (ILM), bravely broke new ground in the 1980s. 'Star Trek II The Wrath of Kahn' (1982) marked the first CG sequence in a film and 'Young Sherlock Holmes' (1983), inaugurated the era of CG characters with its stained glass man. The 'Indiana Jones' and 'Back to the Future' franchises solidified the market's appetite for fantasy, escapism and spectacle while crafting compelling narratives and retaining strong character development. Hollywood in the post-2000 era, however, has been heavily criticized for privileging spectacle over story and plot."
Horror Longevity
Horror franchises aren't strangers to longevity either. Cult favorite "The Evil Dead" saw a modern day revival and is a soon to be show on Starz (NASDAQ: STRZA) tentatively titled "Ash Vs. Evil Dead." The first episode is to be directed by creator Sam Raimi, with audience-favorite killer chin Bruce Campbell returning to star in the series.
Other franchises like "Friday the 13th," "Nightmare on Elm St." and "Hellraiser" have also proven to be worth their string of sequels and reboots in terms of dollars. "Hellraiser" is getting its own reboot too, as announced at the beginning of the month. Clive Barker will be penning the film, with Doug Bradley returning to play the infamous Pinhead.
"With horror, it's a little easier; by and large, they're cheaper and don't depend on recurring actors," said Kyburz. "Anyone can play Michael Myers or Jason, and kids have seen the originals on TV. Even if they haven't, it's not as though they are missing out on any chronology. That's why prequels are big money; rather than depend on a preexisting backstory you can just invent a new one."
Jason Papallo had no position with the mentioned entities while writing this article. Visit Jason on Twitter at @JasonPapallo.
Max Kyburz and Jason Papallo formerly worked together at another publication.
Image credit: Steve Jurvetson, Flickr
Posted-In: comments Max Kyburz Nicholas Schlegel Pixar Tiny Mix TapesTopics General Best of Benzinga
View Comments and Join the Discussion!