Facebook, Audi And Amazon Rise Highest Among The World's Most Valuable Brands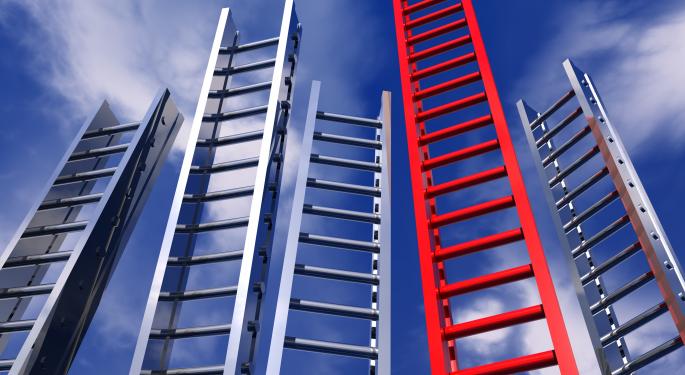 Every company has potential, but some rise to the occasion quicker than others.
Interbrand recently released its list of the 100 most valuable brands in the world. Here are the top five risers from that list.
5) Nissan Motor Co LTD (ADR) (OTC: NSANY) (Value: $7.623 billion/Change in brand value: +23 percent)
This Japanese automaker has risen 23 percent in value. The company has experienced a massive increase in revenue, and has witnessed a boost in popularity and global acceptance through its ventures in fuel-cell technology and its sponsorship of the UEFA Champions League.
Nissan also produces the Maxima and the Rogue, two of the world's most commonly-purchased vehicles.
Related Link: Apple, Google Lead List Of Top 10 Most Valuable Brands
4) Volkswagen AG (ADR) (OTC: VLKAY) (Value: $13.716 billion/Change in brand value: +23 percent)
Interbrand places this German auto company as the next prominent riser. The brand is an award-winner in its home country for its goals to become more energy-efficient. It has seen a rise in sales in countries such as China, and it is the producer of an app for fans of the 2014 FIFA World Cup.
3) Amazon.com, Inc. (NASDAQ: AMZN) (Value: $29.478 billion/Change in brand value: +25 percent)
Amazon is a large player in the global business market. Interbrand claims that Amazon's increase in value is 25 percent, and the company is expanding through the development of new technological products and services such as Amazon Prime, the Kindle Paperwhite and the Fire Phone. It is also attempting to become America's biggest online store, selling everything from pens and pencils to fresh produce.
2) Audi AG (ETR: NSU) (Value: $9.831 billion/Change in brand value: +27 percent)
The German automaker delivered more than 1.5 million vehicles in 2013, and was the top seller in both China and Europe in the same year. Audi has also increased in popularity through the integration of various social media campaigns, such as a "Spock vs. Spock" challenge between actors Zachary Quinto and Leonard Nimoy to commemorate the arrival of the latest "Star Trek" film.
1) Facebook Inc (NASDAQ: FB) (Value: $14.349 billion/Change in brand value: +86 percent)
Facebook, whom Interbrand claimed recently witnessed an unusually staggering 86-percent increase in value, is a well-known platform in the world of social media and is experiencing massive growth through the integration of mobile technology, which currently constitutes the majority of Facebook's revenue.
Posted-In: InterbrandTopics Success Stories General Best of Benzinga
View Comments and Join the Discussion!