How China Could Be The Future Of 3D Printing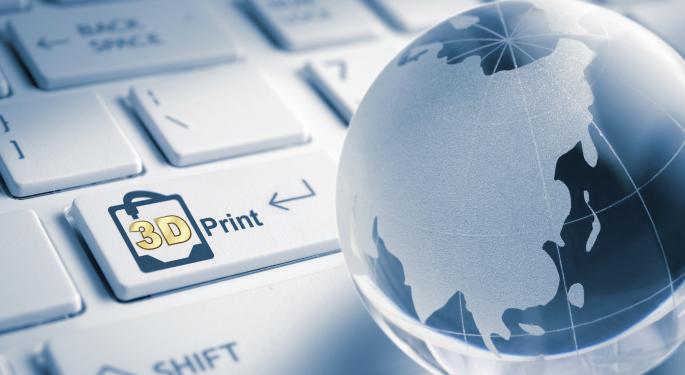 There is a new power player in the 3D printing sweepstakes.
As the media trumpet headlines about 3D printing's capabilities, China has quietly bulked up its presence in the technology. The Chinese government is pledged to invest 1.5 billion Yuan (or $245 million) in a seven-year project to boost additive manufacturing.
China has also bankrolled the Asian Manufacturing Association, which plans to establish 10 innovation institutes to promote additive technology in manufacturing.
"I estimate that China is outpacing the U.S. by more than 3-1 for public investment in 3D printing," Tyler Benster told Benzinga. Benster is program chair for Inside 3D Printing at Meckler Media, which organizes 3D printing conferences around the world. He has authored several investment reports on the technology.
Related Link: Don't Be Scared, But Robots Are On The Verge Of 'Revolutionizing' Manufacturing
While the United States still accounts for a majority of industrial 3D printing systems in the world, China is catching up fast. According to Wohler's report, China has overtaken the United States in the number of manufacturers for such systems.
The domestic market for 3D printers in China is also picking up. According to Lux Research, sales of 3D printers in China will grow to 37,800 and revenues will triple to $109 million by 2018.
According to Benster, Chinese firms have an "export" mentality. "Consumer adoption is far behind Europe and the United States," he said. "The Maker movement (which has been responsible for most innovations in 3D printing) is present but still several years behind (the one in the United States)."
Still, Chinese firms have the advantage of a ready ecosystem for manufacturing and cheap labor resulting in price points that are significantly cheaper than those of their Western counterparts. Whether they are industrial systems or consumer products, 3D printers made in China cost much less than their States-made counterparts.
For example, an average consumer 3D printer made by a manufacturer in the United States costs upward of $1,000, while China-made 3D printers are sold at half that price.
"As patent-granted monopolies end on various technologies, Chinese manufacturers of 3D printers will see explosive growth," said Benster. "Simpler machines at low prices with inexpensive materials resonate with customers both big and small who reject the thousand percent markip on materials offered by 3D Systems, Stratasys, et al."
Questions Remain
Tiertime, China's biggest 3D printer manufacturer, has made no secret of its ambition to become the world's biggest maker of 3D printers. Last year's lawsuit by Stratasys, Ltd. (NASDAQ: SSYS) against Afinia, which licenses printers from China, highlights the complex nature of competition between China and the United States in the nascent industry.
There is also the complication of 3D printing's effect on manufacturing, which has powered the Chinese economy's growth for the last three decades. The technology eliminates a large chunk of manual labor by mechanizing the manufacturing process. The argument for cheap labor, which was China's unique proposition to manufacturers, will not work in this context. But is that a problem?
"Manufacturing is already moving away from China to South East Asia, where labor is cheaper," said Benster. He said 3D printing companies are part of a new wave of Chinese companies "that focus on novel and original design."
"3D printing is a natural evolution," he said. "Certainly, the technology is a threat, but the country seems to recognize this as evidence by bold investments in the space."
Posted-In: 3D 3D Printing 3D Systems ChinaTopics Top Stories Tech General Best of Benzinga
View Comments and Join the Discussion!