A Look At SolarCity's New Loan Program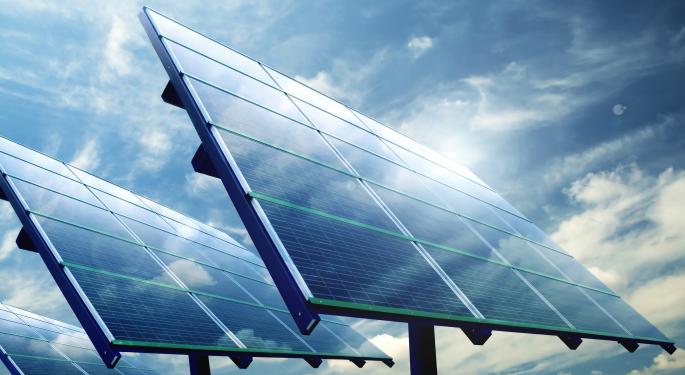 On Wednesday, SolarCity Corp (NASDAQ: SCTY), the solar panel technology company that Tesla's (NASDAQ: TSLA) Elon Musk helped start in 2006 (he is still the chairman), announced a new home solar loan program, MySolar.
It is the first loan program offered by the company. Until now, Solar City had offered its customers only leasing, where a customer pays a flat rate per month no matter what kind of output the panels produce; power purchase agreements (PPA), where a customer pays for the energy produced by the panels; and buy-out rights.
According to SolarCity, "A Power Purchase Agreement is a contract to buy solar power based on a set rate that is usually equal to or less than market rate from your local utility company. Because your solar electric rate is locked in, you can also protect yourself from the volatility of future utility rate increases."
Under a PPA, SolarCity installs, owns and maintains the equipment on your roof.
Related Link: What An L.A. NFL Franchise Or Two Would Look Like Part I
The Loan Difference
Like a PPA, MySolar does not charge customers an upfront cost and allows for savings off of typical utility costs: they claim on their website that MyPower can allow customers to pay as much as 40 percent less than the cost of standard utilities.
With the new loan, however, the customer actually owns the hardware on their roof, and therefore is entitled to the the 30-percent Federal Income Tax Credit that the government currently offers. The term is 30 years with an interest rate set at 4.5 percent, and includes a 30-year warranty.
Chris Ackerman, marketing director at SoCal Solar Energy, told Benzinga that the standard industry loan "will typically run 2.99 percent fixed rate for 12 years, with a payoff in three to five years."
MyPower also allows its customers to prepay the entirety of their loan, or else a portion of it, in order to lower their monthly payment. Additionally, the MySolar warranty includes a production guarantee, meaning that if your system produces less than SolarCity projected it to, they will pay back, and if the system produces more than they anticipated, you'll simply pay off your loan faster.
SolarCity claims this loan will be different in another significant way as well.
"Now SolarCity is lowering the cost of solar electricity even further by leveraging its scale and low cost of capital to act as a direct lender to its customers through its subsidiary, SolarCity Finance Company," reads their website. Most solar loans are provided through third-party banks and municipalities.
In fact, according to a report from GTM Research, the market analysis branch of Greentech Media, and mentioned in Forbes, such third-party financing loans accounted for 70 percent of residential installation in California in 2013. Now, SolarCity will cut out the middle man and directly lend to its customers.
Of course, not everyone will have access to MySolar. The company is currently only offering the new loan to residents of Arizona, California, Colorado, Connecticut, Hawaii, Massachusetts, New York and New Jersey. However, it did have this to say: "Due to its potential to lower the cost of solar electricity, SolarCity ultimately expects MyPower to expand the addressable market for solar power to areas of the United States that have traditionally seen very little adoption."
Posted-In: Elon Musk MySolar PPA Solar PowerTopics Tech General Best of Benzinga
View Comments and Join the Discussion!