Apple Inc.'s iPhone 6 Plus Radiates More Than Samsung's Galaxy Note 3: Should You Be Concerned?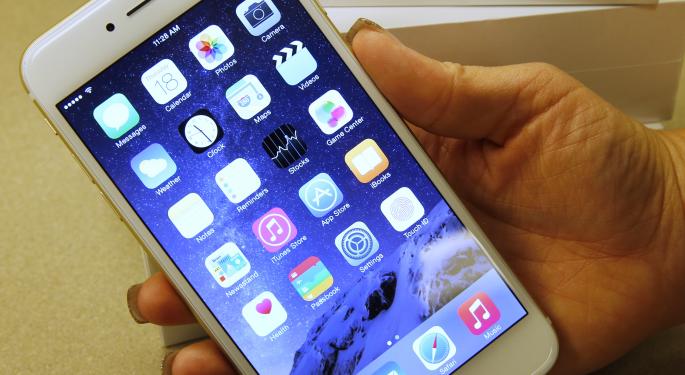 There has been a lot of talk about Apple Inc.'s (NASDAQ: AAPL) iPhone 6 and the radio frequency (RF) radiation dangers of storing it in a pocket.
Apple has been warning consumers about the risks of RF exposure for at least a few years years. One document, iPhone 5 RF Exposure Information, can be found in the legal section of its site. Other warnings were also issued inside the manuals of older iPhone models, including the iPhone 3G.
"My take is probably like every other American: we just don't know," tech industry expert and analyst Jeff Kagan told Benzinga. "I hear some say that it's a radiation risk. I see others, mostly from the cell phone side, showing studies saying there is no risk. I don't know what to believe."
Related Link: The Apple Inc. Watch Versus Competitors: What Do Analysts Think?
Rob Enderle, principal analyst at Enderle Group, thinks Apple is warning consumers to "hold off any potential litigation that might result if suddenly a researcher did find that proximity to the radio was harmful."
"There has been a lot of (mostly anecdotal) information that radio waves close to your body could be unhealthy," said Enderle. "I think Apple is protecting themselves with [the warnings]."
At press time, Apple had not returned numerous requests for comment.
iPhone 6 Plus Vs. Galaxy Note 3
All cellular devices expose consumers to a degree of RF radiation. To determine the worst offenders, Federal Communications Commission requires manufacturers to test the SAR (Specific Absorption Rate) of each handset. SAR shows the rate at which humans absorb RF radiation.
Where does Apple fit in?
According to RF Safe, the iPhone 6 and 6 Plus have an SAR of 1.18 watts per kilogram when positioned near a user's head. That's below the legal limit of 1.6 W/kg, but it is nearly three times greater than Galaxy Note 3, which has an SAR of just 0.35 W/kg.
RF Safe noted that when cellular, Wi-Fi and Bluetooth are running simultaneously, the iPhone 6's SAR jumps to 1.58 W/kg.
On average, most Samsung devices featured an SAR below 0.5 W/kg, while most iPhones had an SAR of 1.11 or higher. Only the original iPhone (0.974 W/kg) and the iPhone 3GS (0.79 W/kg) had lower SARs.
Motorola devices tended to have the highest SAR. The Droid Maxx, for example, has an SAR of 1.54 W/kg when positioned near a user's head.
Evidence Remains Unclear
"I think it's going to be a while before we have any real evidence," Kagan said of the possible dangers.
"If there is a problem, unfortunately, there's going to be a lot of people with problems. And if there's not a problem, there won't be. But we're not gonna know for a while. So what do we do? We either ignore it and carry our phones wherever we want, or we take the extra step and keep the phones half an inch away from our body."
Disclosure: At the time of this writing, Louis Bedigian had no position in the equities mentioned in this report.
Posted-In: Apple Droid Maxx Galaxy Note 3 iPhone 6 iPhone 6 PlusTopics Tech General Best of Benzinga
View Comments and Join the Discussion!