The Supreme Court Boosts Zix Corp.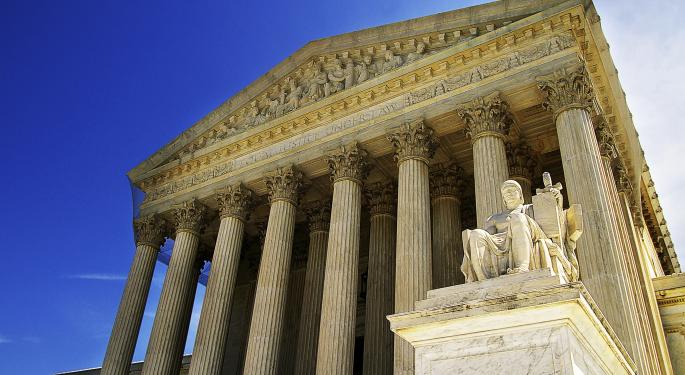 With an increase in the amount of personal information on a phone comes an increase in the desire of law enforcement to search the device. Recently, the Supreme Court ruled against unwarranted searches of mobile devices.
In the ruling, the Court pointed out major flaws in current mobile device management security solutions, the same issues Zix Corp (NASDAQ: ZIXI) has built solutions to prevent.
In an exclusive interview with Benzinga, Zix CEO Rick Spurr discussed the Supreme Court's (indirect) support of Zix's products.
If a phone is lost or taken, the mainstream solution is to conduct a remote wipe to delete data downloaded to the device. This includes email, which contains some of the most sensitive information in a person's life.
Related Link: Exclusive: Tibco CEO Talks Business' 3 Top Priorities
However, the Court argued remote wiping is not an effective way to protect data on phones. Justice John Roberts explained that someone can easily prevent a remote wipe just by turning a device off or putting it in a faraday bag, which prevents the device from receiving radio signals. This leaves data vulnerable to everybody from law enforcement to thieves.
With ZixOne, the user's email is never downloaded onto the device but rather viewed for a short period of time through a special window. After the allotted time, the data cannot be retrieved until the user logs back in. "We are completely different, so you don't have to wipe because it's never there," stated Spurr.
Spurr joked that his competitors are hoping their customers don't read the Supreme Court case.
"The competitors all say, 'we do remote wiping,' and that is when everybody is being fooled… even the Supreme Court knows that is a lousy approach to security!"
Shares of Zix were last trading hands at $3.69, up almost 25 percent since the company's most recent earnings report.
Posted-In: Justice John Roberts mobile devices Rick Spurr Supreme Court ZixTopics Interview General Best of Benzinga
View Comments and Join the Discussion!