5 Top Defense Technology Developments in 2014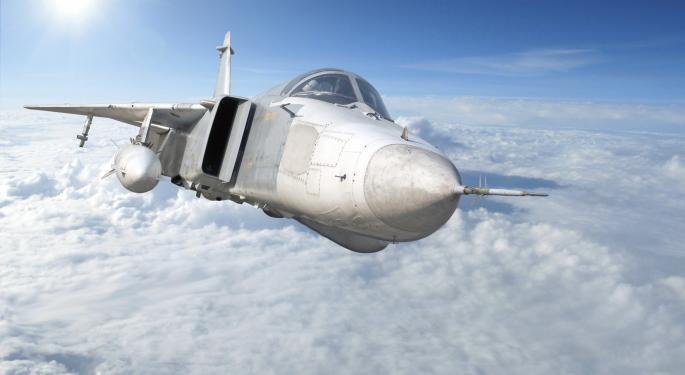 The F-35 Lightning II fighter jet, also known as Joint Strike Fighter, was a no-show at the recent Farnsborough International Airshow.
Supporters were disappointed, but other saw yet more evidence that the troubled program is nothing but a boondoggle.
The latest problems stemmed from the engines made by Pratt & Whitney, a subsidiary of Lockheed Martin (NYSE: LMT).
The F-35 is hardly the only major defense development program. Here is a quick peek at four other defense programs in various stages of development, as well as the publicly traded companies that have a stake in them.
Spaceplane
First, and perhaps most seemingly "out there," is the Experimental Spaceplane (XS-1). The XS-1 vehicle is designed for quick, affordable and routine access to space to, among other things, deploy military, civilian and commercial satellites. This capability is seen as increasingly critical for both national and economic security.
Boeing (NYSE: BA) and Northrop Grumman (NYSE: NOC) are among the companies awarded contracts by the Defense Advanced Research Projects Agency (DARPA).
Goals for the SX-1 include flying 10 times in 10 days, flying to better than Mach 10 and launching a 3,000- to 5,000-pound payload for less than $5 million per flight. That would be dirt cheap compared to the hundreds of millions of dollars each satellite launch costs now.
Boeing shares are down almost 10 percent year to date to $122.32 at Tuesday's close. Shares of Northrop Grumman, however, are up more than 10 percent in that time to $126.37.
Related Link: Lockheed Martin Demonstrates JAGM Dual-Mode Guidance Section In Second Flight Test
Iron Dome
The conflict between forces in Israel and Gaza has brought attention to the former's Iron Dome missile defense system, which the United States helped develop and fund. Interest is rising to add some kind of Iron Dome to the U.S.'s existing systems, or more specifically a Ground-Based Midcourse Defense (GMD) system.
The ongoing missile development efforts in North Korea have also had an impact on calls for a GMD. The Exoatmospheric Kill Vehicle (EKV) developed by Raytheon (NYSE: RTN) is a key component of the system, although Boeing also has a stake in it.
Shares of Raytheon are about five percent higher than at the beginning of the year and closed Tuesday at $92.49. They have traded in a range of $71.06 to $102.33 in the past year.
Sky Shield
Israel-based electronics and defense company Elbit Systems (NASDAQ: ESLT) has created a new way of protecting commercial airliners from shoulder-fired missiles. When the Commercial-Multi Spectral Infrared Countermeasure (C-MUSIC) system, also known as "Sky Shield," detects an approaching missile, it fires a laser that foils the missile's guidance system. The system has been installed on all Israeli airliners, and the company says it has received orders from the Italian and Brazilian air forces.
Elbit's shares on the Nasdaq hit a 52-week high last week but have pulled back about three percent to end Tuesday at $62.85. The 52-week low from almost a year ago is $43.04.
Guided Bullets
Earlier this month, DARPA's Extreme Accuracy Tasked Ordnance (EXACTO) program conducted its first successful live-fire tests demonstrating in-flight guidance of .50-caliber bullets. These are the first ever guided small-caliber bullets, which are aimed at enhancing rifle accuracy and range over current state-of-the-art sniper systems.
Lockheed Martin and the Scientific & Imaging units of Teledyne Technologies (NYSE: TDY) were key to development of this program, though DARPA also faces competition from guided sniper rounds developed by Sandia National Laboratories.
Lockheed Martin shares traded near the 52-week high on Tuesday before giving up nearly all the day's gain to close the session at $169.33. Here too the 52-week low was about a year ago, at $119.32. Teledyne closed Tuesday at $92.85, in a 52-week range of $76.96 to $102.40.
Related Link: Raytheon Company Meets Q2 Earnings Estimates, Reaffirms View
Memory Restoration
Also earlier this month, DARPA selected University of California, Los Angeles (UCLA), and the University of Pennsylvania to initially lead its Restoring Active Memory (RAM) program. They will test electronic interfaces intended to sense memory deficits caused by brain injury, perhaps even Alzheimer's disease and epilepsy, and attempt to restore normal function. The implantable devices will be developed by Livermore National Laboratory and Medtronic (NYSE: MDT).
Medtronic's share price hit a year-to-date high of $65.50 back in June and closed Tuesday at $62.65. Its 52-week low is $51.22.
At the time of this writing, the author had no position in the mentioned equities.
Keep up with all the latest breaking news and trading ideas by following us on Twitter.
Stock chart: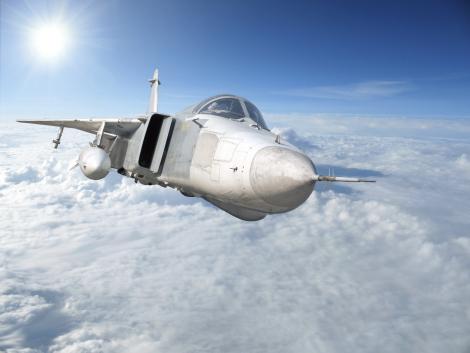 Posted-In: Boeing Elbit Systems Lockheed Martin Medtronic Northrop GrummanTopics Trading Ideas General Best of Benzinga
View Comments and Join the Discussion!