Ten Things Learned from #Sharknado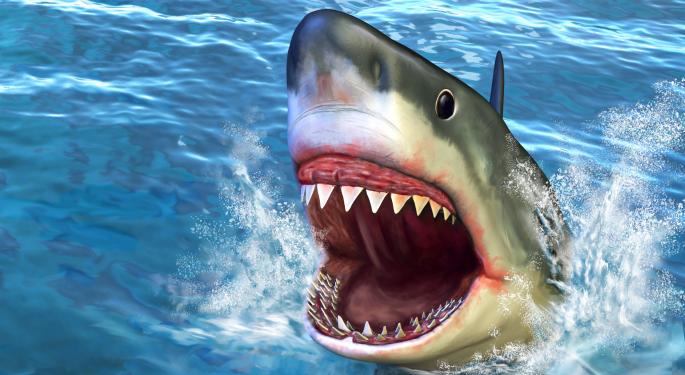 Sharknado, a horror movie based on the premise that deep sea tornadoes pulled up sharks from the ocean to rain them on an unsuspecting Los Angeles, took twitter by storm Thursday night during its Syfy premier.
With a tagline of "enough said", Sharknado had many key lessons for those of us who have never faced this phenomenon.
While the list of lessons learned really can't be limited, below are the top 10:
1. Hurricanes hit California, and come with little to no warning. The sun also shines while the storms rage on.
Sure wish we had some kind of technology that could track movements of huge storms. Maybe when its developed they could call it Doppler or something like that.
2. When large tornadoes go over the deep ocean, they suck up oceanic life, but only sharks.
Because sharks are highly prone to flight, while other ocean creatures tend to be flight-averse.
3. When thrown around in the air, sharks still bite at anything near them, and completely disregard the fact that they're flying.
My dog also does this when he sticks his head out the window in the car- but with a much less devastating effect.
4. Sharks hurtling through the air also do not need to breathe anymore, and can seemingly last for hours rampaging around the tornado.
This must be linked to the tornadoes fundamentally changing the sharks internal biochemistry. Can tornadoes cause evolution in sharks?
5. When sharks land in pools, they will survive the several hundred foot fall with ease. To dispatch of them, pour a small amount of gasoline into it and dropping a match in, causing a massive explosion.
No sense in just leaving the shark be and tend to the multitude of other crises going on at the time, best to just blow your pool up.
6. There are multiple ways to kill airborne sharks, including: shotguns, pistols, knives, big sticks, cars, fire, pickaxes, and chainsaws.
Dodging said sharks, while seemingly practical and highly feasible, is not an option. You must kill the shark to prevent it from landing on you...because they can steer while flying through the air.
7. Helicopters can easily hover within meters of an F5 tornado.
Those are some powerful rotors. Whoever made those choppers is for sure going to land a big military contract.
8. Tornadoes can be destroyed. Simply throw improvised explosives made from propane cans into them in order to cause the tornado to dissipate.
Incredible that no meteorologist ever told us this. The next time I see a tornado, instead of taking shelter inside, I'll shoot fireworks at it. For science.
9. If confronted by a shark falling out of the sky directly at you, dive into its mouth with your chainsaw. You'll be able to tunnel out of its tail with ease.
Again, you cannot dodge a falling shark. You must confront it head on. In this case, by diving into its mouth.
10. Sharknado is an instant classic.
Enough said.
If you missed it last night, check out the trailer.
Create your free online surveys with SurveyMonkey , the world's leading questionnaire tool.
Posted-In: Sharknado SyFyTopics Hot Media General Best of Benzinga
View Comments and Join the Discussion!