Buy Your Retirement Real Estate Now and Save Money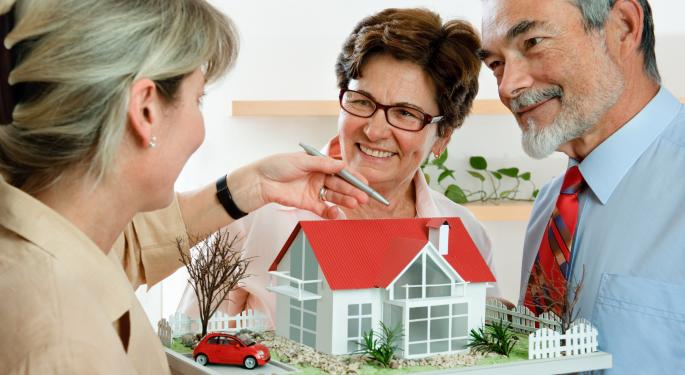 You may not be ready to retire yet, but that does not mean you shouldn't be thinking about where you will live when you do.
CNBC reported that with home values down more than 50 percent from the height of the housing market – and starting to rise again – many younger buyers are buying retirement housing, both as an investment and as a place to live when they finally reach those golden years.
Charlie Rocque told CNBC that he recently bought an apartment at Century Village in Boca Raton, Florida that was valued at $75,000. Only that's not what he paid. Charlie says he picked it up for a cool $20K.
Roque, who is 56 years old and works full-time, uses his apartment as a get-away for now. Later, it will be his full-time residence. Some people are buying retirement properties and renting them out.
Some wait a while and then sell for a profit. Most, however, are buying for future use at a discount price – before an improving market ends up costing them more.
According to Ben Schachter of Century Village Real Estate, over the last 12 to 24 months, the average age of a new buyer at Century Village has gone from the mid-70s to the low 60s. Schachter, who is well below retirement age himself, owns six condominiums in the Village.
While residents of places like Century Village usually must be 55 or older, buyers can be any age. Younger investors tend to be the ones who buy for the rental income – and the peace of mind of knowing they have a retirement home when they are ready.
For those interested in pursuing a "buy now, live there later" think about this:
Know the Risks
First, experts say buying your retirement home five to 10 years before you stop working can be a plus – provided you are aware of the risks of tying up a lot of money in a second home purchase.
Kimberly Foss, president of Empyrion Wealth Management, says, "While there's no denying that we have historically low interest rates and low home values right now, anyone considering buying a second home before they retire needs to run the numbers."
The bottom line, she says, is that you have to be sure you can actually afford the costs of owning a second home before you jump into the water.
First Things First
Also, Foss recommends clients max out their 401(k) s and make sure they have adequately insured their future before thinking about buying retirement homes.
Finally, she says people should have at least 12 months' worth of living expenses in the bank as an emergency fund.
Ensure Operating Expenses
Even if you choose to rent out the second property, you will need six to 12 months' of upkeep and rental income saved up – in case you aren't able to lock in a renter right away.
How much you need will depend on how much maintenance you are able to do yourself – and how much you have to hire out. Not counting the time you have available, this may also depend on how geographically close you are to that second home. If you live in Ohio and your retirement home is in Arizona, you will probably have to hire the work out.
Financing
If you have plenty of discretionary income, buying your retirement home for cash might be an option. For most people, however, financing is necessary.
If you plan to live in the home now (which makes it a first home, not a second home), everything is done by traditional means. The other two options are second home and investment.
Patrick Cunningham, vice president of Home Savings and Trust Mortgage in Fairfax, Va. says, "Second-home financing means that you will need to qualify to pay the mortgage on both your current home and your second home."
Cunningham notes that you can use rental income to help qualify if you plan to rent the property part of the time.
Financing an investment property is generally the least desirable option. Higher interest rates, stricter qualification guidelines, and a minimum 20 percent (even 25 percent) down payment are all reasons Cunningham gives for sticking with second home financing if possible.
Finally, whether it's a first home, second home, or investment property, consider one of the main benefits of buying before you stop working – mortgage approval can be more difficult to obtain once your steady working income stops.
View Comments and Join the Discussion!
Posted-In: Entrepreneurship Topics Success Stories General Best of Benzinga