Bristol-Myers' Trash is Gilead Sciences' Treasure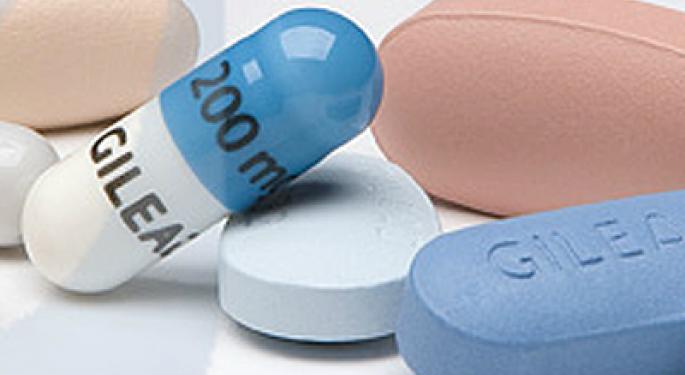 Amid a track record of continued success and secured patents, Gilead Sciences (NASDAQ: GILD) is once again headlining the infectious disease realm with a new hepatitis C offering despite news that Bristol-Myers Squibb (NYSE: BMY) has discontinued its experimental therapy trials following a patient death.
Current hepatitis C treatment practices involve injection-therapy, and companies like Gilead Sciences and Vertex Pharmaceuticals (NASDAQ: VRTX) aim to turn the method of treatment into a pill form. Unfortunately, during Bristol Myers' trials, one patient died from heart failure and others were hospitalized, causing the company to discontinue treatments obtained from the $2.5 billion acquisition of Inhibitex earlier in 2012.
Gilead's GS-7977 sets itself apart from the other nucleotide drugs, as it has passed several studies with manageable safety and tolerability results. Piper Jaffray stated that it, "[believes] the termination of '094 provides further validation of Gilead's acquisition of Pharmasett and could represent an incremental $1-3bn to our HCV franchise sales estimates."
Gilead Sciences purchased Pharmasset for $10.8 billion in late 2011, an acquisition that has benefitted the company in regards to the hepatitis C franchise among other infectious diseases. Gilead's strong role with the Human Immunodeficiency Virus (HIV) antiretroviral treatments, such as Atripla, Emtriva, Truvada and Viread, (all of which that have patents that won't expire until between 2017-2021), shows that the company is currently the leader in HIV treatment. With the success of these drugs, Gilead's powerful stance in the market of infectious diseases will remain solid for the next decade or so.
As far as hepatitis C goes, it is currently the most common chronic blood borne infection in the United States, according to the Arizona Department of Health Services. Approximately 4.1 million persons, (1.6 percent of the U.S. population), are currently infected.
Without sounding morbid, infectious disease outbreaks have positive effects on pharmaceutical companies. The dependence on treatment drugs to sustain the quality of patient life becomes much more important the more widespread the disease becomes.
As mentioned previously, Gilead's GS-7977 has shown data that indicates a clean safety profile in more than 500 patients with no adverse effects, and it appears that oral treatment drugs will be taking a larger stake in helping patients become more comfortable with treatment.
Year-to-date, Gilead is trading up almost 37 percent and continues to slowly ramp higher as HIV sales grow.
Citigroup recently reported that HIV drug sales for the third quarter tracked at $1.143 million versus consensus estimates of $1.096 million. Sales of each individual drug (Atripla, Emtriva and Viread) have all met or exceeded analyst estimates. On treatment, Citigroup wrote, "For GILD, our sensitivities are that every 10k in treatment patients in US adds an estimated $3/sh & in ROW adds an estimated $2/sh. Every 5% in GILD specific market share is worth ~$2/sh, by our analysis."
Gilead continues to raise prices on its HIV drugs each quarter, which is reflected in the company's continued earnings beats, raised price targets and steadily increasing share value.
In premarket trading, Gilead Sciences is up 2.05 percent. The Center for Disease Control's (CDC) recommendation that all baby-boomers receive a one-time HCV test ensures that this positive trend for the stock will continue.
Posted-In: Arizona Department of Health Services Atripla Business Week Center for Disease Control Citigroup EmtrivaTopics General Best of Benzinga
View Comments and Join the Discussion!