Exclusive: Boston Market CEO Talks 'Chicken Wars' Strategy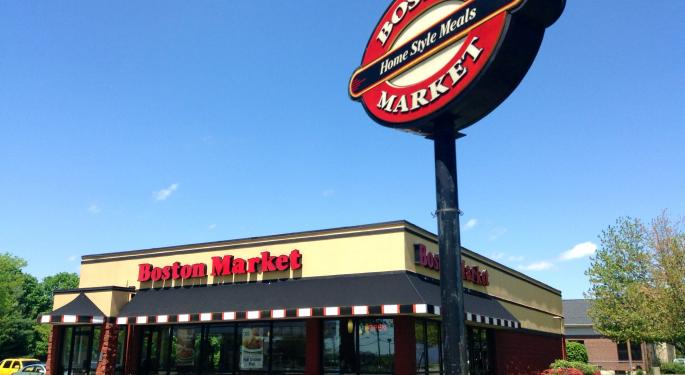 Benzinga recently had the chance to speak to Boston Market CEO George Michel about the company's new All Good campaign and where the company fits into the growing shift toward healthier, more natural restaurant foods.
Mr. Michel covered a range of topics, including the "Chicken Wars" taking place in the fast casual restaurant industry and the recent efforts that Boston Market has made in response to consumer demand for healthier food.
Chicken Wars
The clash between Boston Market's rotisserie chicken and KFC's fried chicken is reminiscent of other food wars in the past, including the blind taste tests of the 1970s cola wars between The Coca-Cola Co (NYSE: KO) and Pepsico, Inc. (NYSE: PEP) and the "Where's the beef?" wars in the 1980s between Wendys Co (NYSE: WEN), Restaurant Brands International Inc (NYSE: QSR)'s Burger King and McDonald's Corporation (NYSE: MCD).
"Other restaurants focus on frying their chicken, but we slow-cook our rotisserie chicken for an hour and a half so that more of the fat drips out of the chicken," Michel explained. "We've always been at the forefront of providing a better-for-you meal at Boston Market."
Related Link: The Burger Wars: McDonald's Vs. Burger King Vs. Wendy's
Going Natural
With Yum! Brands, Inc. (NYSE: YUM) chains Taco Bell and Pizza Hut recently joining the growing number of food companies that are caving to consumer demands for the removal of artificial ingredients, Benzinga asked Michel about Boston Market's stance.
"We always focused on using natural ingredients," he said. "We recently engaged a nutritionist from the Anschutz Health and Wellness Center at the University of Colorado to come and audit out menu. We are completing the audit in the next month."
Michel added that Boston Market is among the companies working with chicken suppliers to eliminate the use of human antibiotics in their chicken by 2017.
Other Health Initiatives
According to Michel, one of Boston Market's biggest weapons in the Chicken War against KFC and other fried-chicken competitors is the centerpiece of its new All Good campaign: healthier meals. In addition to the menu audit and the rotisserie cooking process, Boston Market has also made efforts to reduce sodium levels in its chicken, reaching a goal of 20 percent reduction in 2014.
Only time will tell who will win the Chicken War and if there will be any casualties, but for now Boston Market, KFC and other competitors are listening to the voices of consumers and trying to maintain the delicate balance of great taste, happy customers and big profits.
Image credit: Mike Mozart, Flickr
Posted-In: All Good Boston Market Chicken WarsRestaurants Top Stories Exclusives Interview General Best of Benzinga
View Comments and Join the Discussion!