Burger King: Not Just In It For The Doughnuts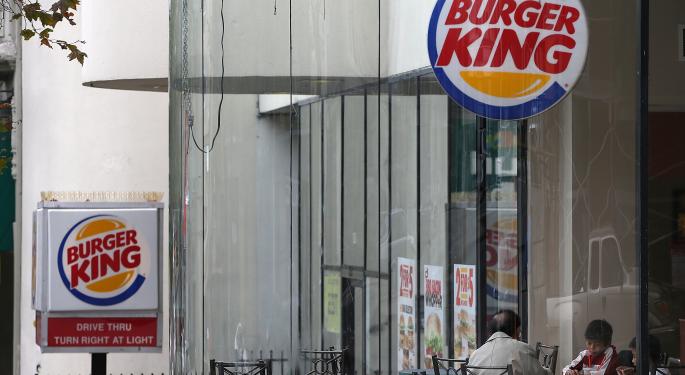 Investors are waiting in line for Burger King (NYSE: BKW), but not for its burgers and fries.
These scores of investors are interested in Burger King's stock, which is evidenced by a daily volume north of 15 million shares (versus an average volume of approximately 400,000 shares). What has caused this massive demand for Burger King's stock, which has driven the price up approximately 23 percent for the day?
First Reports
Liz Hoffman and Dana Mattioli of The Wall Street Journal first reported news that Burger King was in talks to purchase Tim Hortons (NYSE: THI), a fast-casual restaurant known for its coffee and doughnuts.
That rumor was then confirmed by The Toronto Globe. You might be wondering: Why The Toronto Globe?
Part of the reason Burger King is interested in purchasing Tim Hortons is to avoid U.S. taxes. By taking advantage of a tax inversion deal, Burger King can save money on its foreign earnings. As part of this move, Burger King plans on moving its headquarters from Miami, Florida to Canada.
Investor Sentiment
Investors, barring perhaps Mark Cuban, are thrilled with the news. Why wouldn't they be in this world of stymied top-line growth and exceptional cost-cutting measures seen from most companies catering to consumers?
Related Link: Burger King Offers Whopper Pay Day To Investors
This is also a big reason why Burger King (the potential acquirer) has seen its stock price jump more than Tim Hortons (the potentially acquired). In most cases, the company being acquired enjoys a bigger stock-price jump. That said, Tim Hortons is up approximately 18 percent on the news.
In addition to cutting tax costs, Burger King plans on leveraging its brand strength and marketing expertise to help Tim Hortons grow internationally.
On the surface, this might seem like a way for Burger King to gain ground on McDonald's (NYSE: MCD). While this is partially true, McDonald's doesn't pose as much of a threat as fast-casual restaurants like Chipotle Mexican Grill and Panera Bread.
What About The Consumer?
There are 80 million Millennials (born 1977 to 1995) in the United States, and most of them are more health-conscious than prior generations. Despite their financial woes because of high student debt and a lack of wage growth, they're still willing to spend a few extra dollars for healthier food.
This trend has led to rampant growth for Chipotle Mexican Grill and Panera Bread, their top lines appreciating 18 percent and 8 percent over the past year, respectively.
Tim Hortons won't provide Burger King with a strong presence in the fast-casual dining space right away, but it's a move that will have the potential to drive the top line, thanks to inorganic growth and an investment in a well-received brand.
Burger King is now attracting the attention of more investors, and rightfully so. However, prior to Monday's news, Burger King was trading at 30 times forward earnings and offering an annual dividend yield of 1.1 percent.
McDonald's, though struggling to find domestic growth channels, is trading at just 16 times forward earnings and yielding 3.4 percent.
Over the long haul, will McDonald's still be the real king for fast-food investors? Based on recent events, it shouldn't shock anyone if McDonald's soon makes a move of its own.
Posted-In: Burger King McDonald's Tim HortonsRestaurants M&A Movers General Best of Benzinga
View Comments and Join the Discussion!