3 Charts That Show How Much Snapchat Users Hate The New Interface; Instagram Stories To Benefit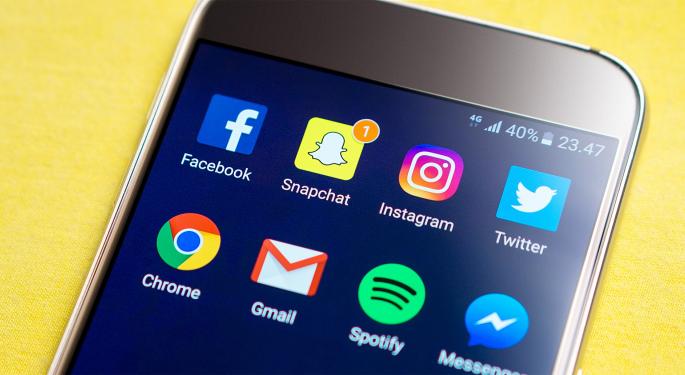 Snap Inc (NYSE: SNAP)'s Snapchat recently updated its platform, but Facebook Inc (NASDAQ: FB)'s Instagram might be the big winner.
This exclusive LikeFolio report is designed to show the initial reaction that Snapchat users are having to the new user interface that the company is currently rolling out to users.
1. Snapchat user sentiment has plummeted as the new interface rolls out.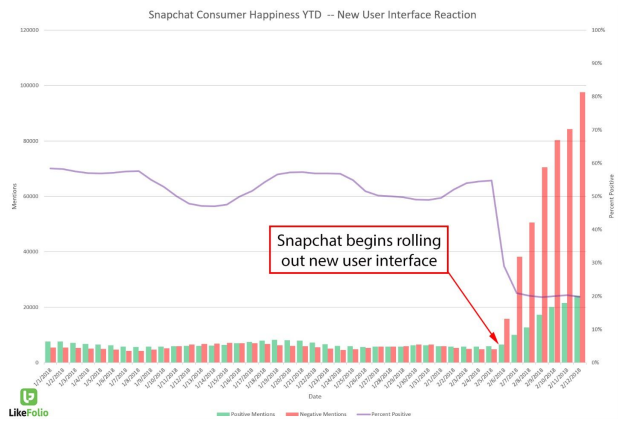 This YTD chart shows the extremely negative reaction of Snapchat users to the new interface. Green bars measure total positive mentions, red bars measure total negative mentions, and the purple line measures the ratio between the two. Currently, almost 80 percent of all conversations about Snapchat which contain sentiment are measuring as negative sentiment. This is extraordinarily low and a massive backlash against a product iteration.
2. Instagram Stories "purchase intent" (people talking about switching to the feature, starting to use it, etc) has risen dramatically in reaction to the new Snapchat interface.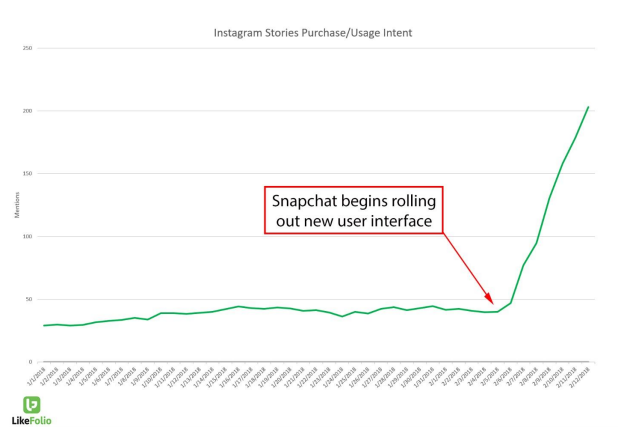 Social-data indications of adoption of Instagram Stories has been very steady, until this rollout by Snapchat, which has clearly led to a large acceleration in adoption of Instagram Stories.
3. Overall, we see a minor increase in adoption of Instagram.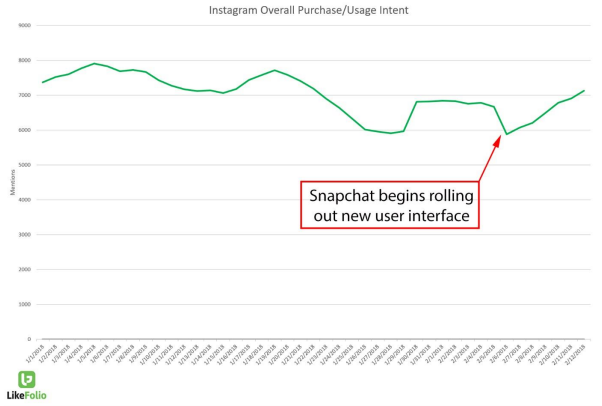 Instagram's userbase is so large, it's very difficult to move the needle. Though there has been a clear uptick in people posting about adopting/downloading/installing Instagram, we do not think that this is going to be a significant event for increasing Instagram's total user base.
What Does It Mean?
Snapchat users absolutely hate the new interface. Instagram looks to be a beneficiary of this, as frustrated Snapchat users begin relying on the Instagram Stories feature instead of Snapchat.
This is a very early read. The initial reaction to new user interfaces is usually negative, and improves over time. That said, this is an exceptionally negative reaction for Snapchat.
We will continue to monitor these trends over the next 30-90 days to see 1) if Snapchat can recover the confidence of its users and 2) if the apparent shift from Snapchat to Instagram Stories takes hold (or even accelerates) over time.
Instagram Stories are my new Snapchat from this point forward.

— TRÅVIS (@travisdimeer) February 10, 2018
Methodology
We consume and analyze every tweet (directly from Twitter) that contains a mention of the brands and products owned by publicly traded companies. We analyze each tweet to determine indications of consumer happiness and consumer spend. Think of this as an enormous, constant real-time brand survey.
We compile the analytics of that data to show how a company's brands/products are doing over time, or versus competitors. This data offers a unique edge to investors and stakeholders who benefit from quickly seeing shifts in consumer behavior.
Related Links:
The Most Loved And Hated Super Bowl LII Commercials: Pepsi Steals The Show, Diet Coke Falls Flat
View Comments and Join the Discussion!
Posted-In: Instagram Instagram Stories SnapChatPsychology Top Stories Tech Trading Ideas General Best of Benzinga