Facebook's Mimicry Tactics Against Snapchat Appear To Be Working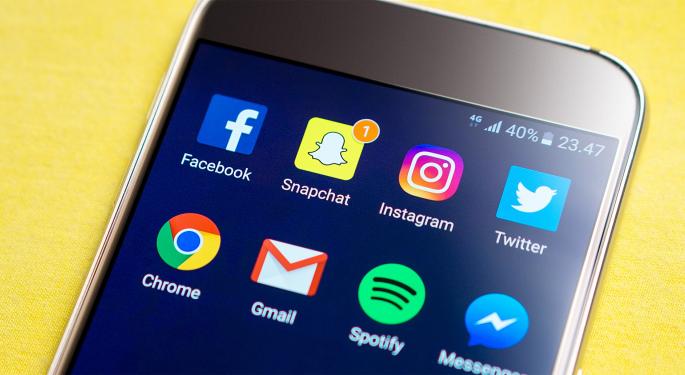 When an imitation is smarter than the innovation, what should one deduce from it? It could be due to the imitator bringing its own unique strength and appeal to the table or the copycat version proving to be an improvement over the original.
Hard data proves Facebook Inc (NASDAQ: FB) has found success with its mimicry tactics against Snap Inc (NYSE: SNAP)'s ephemeral photo- and video-sharing platform Snapchat.
For the uninitiated to Facebook's shortcut to success, here are the details:
In 2015, Facebook tested ephemeral messages in the namesake application's Messenger. The feature allowed users to send messages that disappear in an hour.
Facebook added Instagram Stories in August 2016, which has taken after Snapchat's hugely successful Snapchat Stories.
As recently as this year, Facebook added Status to the photo-sharing app WhatsApp, which it acquired in 2012. This new feature took after Snapchat Stories, with the only difference being that Facebook's version is end-to-end encrypted, similar to WhatsApp messaging. WhatsApp, which previously allowed users customize their status with clever text expressions, is now offering the option of sharing photos and videos as a status update, complete with funky filters and effects.
Incidentally, Facebook has found tremendous success with its copycat versions, so much so that it has outwitted the innovator in terms of user statistics. A Facebook post by CEO Mark Zuckerberg just after Facebook released its second quarter results confirmed the social networking giant's supremacy.
The post said Instagram Stories and WhatsApp Status had 250 million daily active users each. Meanwhile, the latest statistics available (Q1) showed that Snapchat had 166 million DAUs.
Source: Statista
Half of the businesses on Instagram produced a story in the last month, boosting the average usage of the app to 32 minutes per day for those aged 25 and younger, and 24 minutes per day for those aged 25 and older, according to Techcrunch.
A February S-1 filing from Snap showed that users under 25 spent an average of 30 minutes on Snapchat every day and those older than 25 years spent about 20 minutes.
The irony is that it took three years for Snapchat to launch its Stories. Facebook managed to ape the feature in just four months.
Meanwhile, a report carried by Adweek based on a study by L2 Brands showed that marketers posted 1,347 Instagram Stories compared to 614 Snapchat Stories in July.
The study also showed that Snapchat stories concentrated on a smaller subset of brands, namely beauty and hair care marketers. This was expected because of the more youthful demographics of Snapchat users.
While 72 percent of the Snapchat Stories analyzed in the study were from beauty brands, this category made up just 38 percent of Instagram Stories.
Among the other clientele of Snapchat Stories were retailers (13 percent), travel, automotive, consumer electronics and activewear (15 percent).
For Instagram Stories, the breakdown was as follows:
Beauty and hair care brands: 38 percent.
Retailers: 26 percent.
Luxury and consumer packaged goods marketers: 21 percent.
Activewear, consumer electronics and other types of marketers: 15 percent.
The study concluded that as Instagram becomes the mainstream choice for brand Stories, Snapchat risks being niche-ified.
More on the rivalry could emerge in the Snap earnings report due Aug. 10. The company is expected to report a loss of $0.14 per share on revenues of $189.23 million for the quarter.
Investors in Snap, who are already put off by the steep sell-off in shares, may look for clues regarding the potential strategy Snapchat will adopt to counter the Facebook threat.
Related Links:
Report Says Google Was Once Interested In Acquiring Snap Last Year
View Comments and Join the Discussion!
Posted-In: AdWeek FacebookPsychology Top Stories Tech Media Trading Ideas General Best of Benzinga