Here's Every Feature Facebook's Platforms Have Aped From Snapchat
Snapchat may not be as big as its bigger brethren Facebook Inc (NASDAQ: FB). Compared to Facebook's annual revenues of $27.64 billion in 2016, Snapchat earned only $404.48 million. But at least it has the technological superiority in making the latter want to evolve copycat versions of each of Snapchat's successful features.
Fundamental Take
Snapchat's parent Snap is set to offer its shares to the public in an IPO, valued at roughly $20 billion to $25 billion. Though Snapchat's revenues are only about 1 percent of Facebook, the company is set to more than double its U.S. revenues by 2017, according to a Business Insider article quoting eMarketer.
The messaging app reportedly said in September last that its daily active user number globally is 150 million, with the lucrative United States and Canada region accounting for 60 million of the numbers. This compares to 175 million daily active users in the U.S. region for Facebook.
Aping — Best Form Of Flattery
The David in the Facebook–Snapchat "David and Goliath story" is slowly and steadily making inroads. More gratifying for the smaller company is the fact that the insecure Facebook is watching its every move and incorporating into its platform some of its very successful features. An interesting take on this development offered by Bloomberg is worth mentioning.
After being rebuffed by Snapchat, which it pursued way back in 2013 with a $3 billion bid, Facebook is striving to create its own version of Snapchat — with few of the attempts successful and a few others not so successful.
Related Link: Does Instagram Owe Its Fastest Growth Rate Ever To Snapchat Copycatting?
Unabashedly Yours — Facebook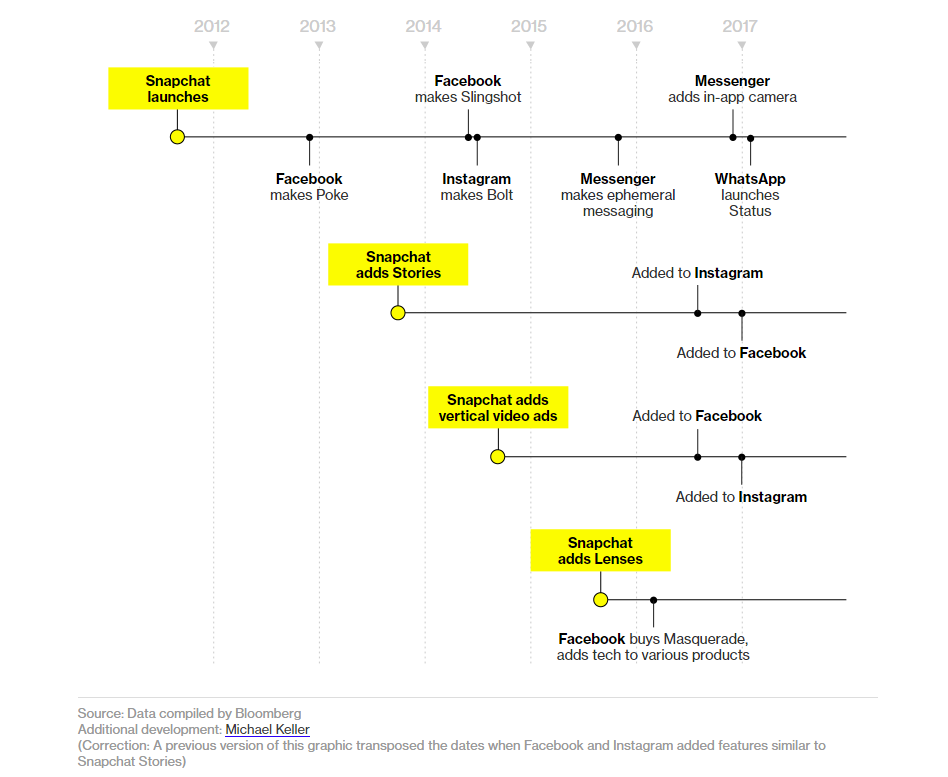 Source: Bloomberg
One of the earliest attempt mimic Snapchat was made by Facebook in 2013, the year the latter spurned the former's takeover bid, was the release of an app called Poke. The app was an attempt to emulate Snapchat's service by allowing users self-destruct images after one, three, five or 10 seconds. However, Facebook was not-so-successful in this and had to withdraw the app in 2014.
Photosharing app Instagram, which Facebook bought in 2012, brought out a one-tap messaging app, called Bolt for iOS and Android in 2014. Bolt allowed users to send a photo or video to a friend, which disappeared once it was viewed, the very premise on which Snapchat is built around.
In 2015, Facebook tested ephemeral messages in the namesake application's Messenger. The feature allowed users to send messages that disappear in an hour.
In a blatant copycat move, Facebook added Instagram Stories in August 2016, which has taken after Snapchat's hugely successful Snapchat Stories. Facebook's claim that it added 100 million monthly active users around the time Instagram Stories was launched led to the deduction that this feature, despite it being lifted, has been immensely successful for Facebook.
The vertical video ads Snapchat introduced in 2015 was added to the Facebook app in September 2016. A vertical video is a video shot on a mobile phone in portrait mode, usually tall rather than the widescreen format. Subsequently in November 2016, Instagram also added vertical format of photo video ads.
In March 2016, Facebook bought Masquerade, an app that adds fantastic filters to images and videos generated by your smartphone. With the move, Facebook was taking on Snapchat, which launched its Lenses in 2015 and beefed itself in this area with the buy of selfie animation app Looksery. Lens lets users add animated features to their face.
In its bid to go after Snapchat, the latest addition to Facebook's panoply of weapons was Status, which it added to its WhatsApp. WhatsApp, which previously allowed users customize Status with clever text expressions, is now offering the option of sharing photos and videos as a status update, complete with funky filters and effects.
Facebook seems to be on a warpath as it turns the heat on Snapchat, with its deep pockets. However, Snapchat doesn't look like the one which could be cowed down! In this epic battle, users could be the ones who stand to benefit the most. Stay tuned to the next chapter in this copycat warfare.
View Comments and Join the Discussion!
Posted-In: BoltNews Topics IPOs Tech Media Trading Ideas General Best of Benzinga