Howard Schultz For President? Maybe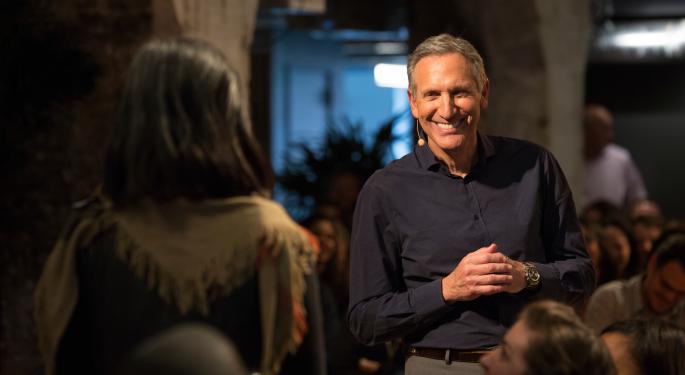 Starbucks Corporation (NASDAQ: SBUX) co-founder and ex-CEO Howard Schultz is retiring from his coffee chain ahead of what could prove to be a presidential campaign run.
What Happened
Schultz, 64, said he recognizes a major issue in the Democratic Party in that too many notable voices are "going so far to the left," Schultz said during CNBC's "Squawk Box" segment Tuesday. Schultz said he is left wondering how the government will "pay for all of these things" that liberal politicians are proposing, such as a guaranteed job or a single-payer health care system
"I don't think that's realistic," he said. "I think we need to get away from all of these falsehoods and start talking about the truths and not false promises."
Without offering any specific campaign soundbites, Schultz did say the "greatest threat" facing the United States is the $21-trillion national debt, which is "hanging [a] cloud over America and future generations."
As interest rates move higher, the American taxpayer will be left with a bill with $400 billion in interest alone, he said.
'Tremendous Skills'
Schultz has shown "tremendous skills" in growing Starbucks' brand over the decades while enacting a "socially conscious" component, Storch Advisors CEO and former Toys R Us CEO Gerald Storch told CNBC. The former Starbucks CEO's expertise and experience would translate well in the presidency, Storch said.
No Party For Schultz
Schultz faces an immediate problem should he choose to run for office, James Pethokoukis of the American Enterprise Institute told CNBC Tuesday morning. There "really isn't a political party" that would accept his views; in the case of the Democratic Party, Schultz's openness towards entitlement reform and focus on the debt would be problematic, the policy analyst said.
Unless Schultz is willing to put up around $250 million as a "starting bid" for an independent run, the chances for a path to the White House are low, he said.
Related Links:
Wall Street's Take On Starbucks Following Schultz's Departure
How Consumers Have Reacted To Starbucks' Refugee Hiring Announcement
Howard Schultz at his retirement announcement Monday. Photo courtesy of Starbucks.
View Comments and Join the Discussion!
Posted-In: CNBC Democratic Party Gerald Storch Howard Schultz. President national debtPolitics Media General Best of Benzinga