Electric Vehicles Face Major Test As $7,500 Tax Credit Could Come To An End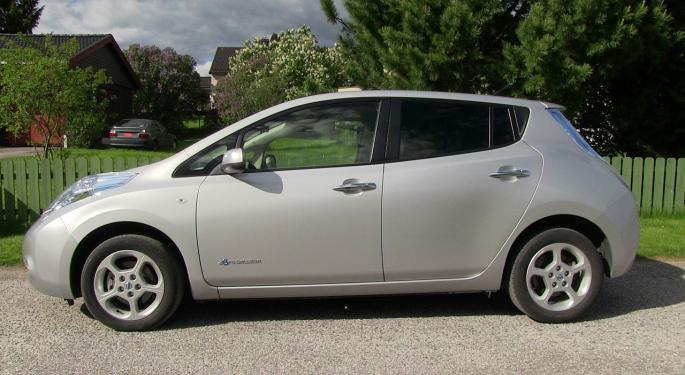 What will happen to sales of electric vehicles after an attractive $7,500 tax incentive from the U.S. government ends? While some are quick to say it is too soon to tell, others are quick to sound alarm bells.
According to Edmunds, the elimination of the U.S. government's $7,500 tax credit will likely "kill" the electric vehicle market. The tax credit has been in place since 2010 and is available to the first 200,00 customers of each auto company.
As it curently stands, there is still plenty of runway left.
For instance, Tesla Inc (NASDAQ: TSLA) has sold around 100,00 vehicles to date, which means it is just at the halfway point of the tax credit allotment. Other car makers such as Nissan Motor Co Ltd (ADR) (OTC: NSANY) are also halfway through their allotment, while General Motors Company (NYSE: GM) is on pace to go through its allotment in late 2018 or early 2019.
The Market Is Likely To Crash
Edmunds noted in its report that President Donald Trump's administration is unlikely to eliminate the credits prematurely (since it requires congressional approval), but the White House could decide to not extend the credits once the program expires.
The state of Georgia used to offer a $5,00 state tax credit on top of the $7,500 federal credit but once the state credit was eliminated in 2015 sales of electric vehicles "came tumbling down."
Electric vehicle sales accounting for around 3.5 percent of all car sales in Georgia but once the state credit expired this figure plunged to around 0.5 percent. Interesting enough, sales of Tesla's Model S sedan fell after the elimination of the tax credit, but within a few months, sales bounced back to normal levels.
Sales of the Nissan Leaf also tumbled from between 2,500 to 3,000 units per quarter to below 500 units.
Main Takeaway
Edmunds pointed out that one of the take-aways from Georgia is that sales of high-end vehicles, such as Tesla's Model S, has shown it can recover from drastic price changes — although the same can't be said for lower-end models.
A Bloomberg report took a contrarian view and suggested a Georgia-sized collapse in electric vehicle sales won't be seen at the national level. After all, automakers are investing billions of dollars in their products and the best of breeds will be able to compete on pricing in the short term to establish a long-term market share.
After all, cash incentives are important, but it is a mistake to think that this alone will define the market over the longer term.
Related Links:
Major U.S. Cities Looking To Buy 114,000 Electric Vehicles
Tesla Has A Compelling Long-Term Story, But Will Face Near-Term Headwinds
Posted-In: car sales EdmundsPolitics Travel Tech Media Trading Ideas General Best of Benzinga
View Comments and Join the Discussion!