How The 2016 Election Recount Could Be A Black Swan Event In The Making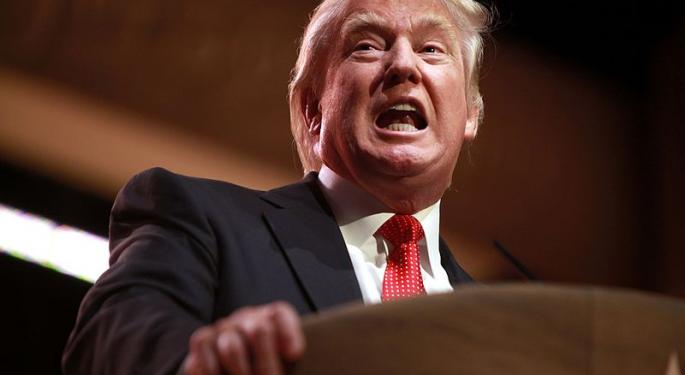 While investors try to prepare for what could be an unpredictable Donald Trump administration, Wisconsin is quietly undergoing a presidential election recount. The Wisconsin recount was requested by Green Party candidate Jill Stein, who said she has raised funds for a recount in Pennsylvania and possibly other states as well.
Probable Recount Outcome: No Change
The possibility of Hillary Clinton gaining enough votes in any recount seems very slim, despite the fact that had just two counties moved state lines, the results would have been drastically different. Regardless, the recount could be a major black swan event for the stock market. A black swan event is an unpredictable market-moving event that is outside the realm of what is typically expected.
The biggest vote swing from any state-wide recount came in 2000 when Al Gore gained an additional 1,247 votes in Florida. Trump's narrowest margin of victory in any state this year is more than 10,000 votes.
It's unlikely that simple miscounts could allow Clinton to make up a deficit that large, but some recount supporters believe malicious malware could have systematically altered the vote count in Pennsylvania and elsewhere.
However, even the Obama administration says there is no evidence of cyber-attacks during the election.
"We stand behind our election results, which accurately reflect the will of the American people," a senior administration official said.
The Dark Swan Dive
In the unlikely event that Trump's victory in the election becomes threatened by recounts, stocks that have made significant moves since Election Day could begin to regress.
Since November 8, the Financial Select Sector SPDR Fund (NYSE: XLF) has been the top-performing market sector ETF, up 11.3 percent. The Industrial Select Sector SPDR Fund (NYSE: XLI) is also up 7.3 percent in that time.
Private prison stocks Corecivic Inc (NYSE: CXW) and The GEO Group Inc (NYSE: GEO) are up more than 40 percent since the election. Gun stocks Sturm Ruger & Company Inc (NYSE: RGR) and Smith & Wesson Holding Corp. (NASDAQ: SWHC) are both down more than 14 percent.
Image Credit: By Gage Skidmore from Peoria, AZ, United States of America (Donald Trump) [CC BY-SA 2.0], via Wikimedia Commons
View Comments and Join the Discussion!
Posted-In: 2016 presidential election ballot recount Barack Obama Donald TrumpPolitics Top Stories Trading Ideas General Best of Benzinga