Former U.S. Treasury Secretary Larry Summers Offers Donald Trump Some Tips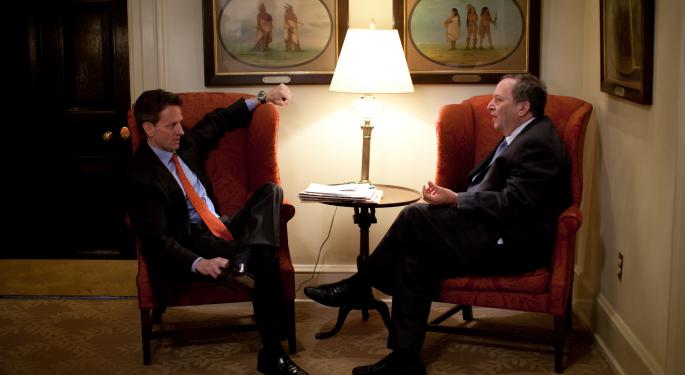 Former U.S. Treasury Secretary Larry Summers was a guest on Bloomberg TV and offered some tips for Donald Trump ahead of his presidency.
Currency Manipulation
The conversation began surrounding currency manipulation. Specifically, Trump accused China of manipulating its currency and said that as president, he would ask his yet-to-be-named treasury secretary to designate China as a currency manipulator.
"There certainly are abuses in other countries that can be pursued aggressively within the remedies that are contained in U.S. trade law and I think there is a bi-partisan consensus in favor of that," Summers said. "In the current environment naming China as a currency manipulator on day one is a ludicrous proposal."
NAFTA And Mexico
Summers continued that repealing or revoking the NAFTA trade agreement would create "enormous economic damage." In fact, he added that it is quite ironic that Trump's strict rhetoric against Mexico has already resulted in a large devaluation of the peso, which essentially subsidizes every exporter out of the country and also makes it more expensive for American companies to now import goods from Mexico.
Summers further suggested that it is possible the devaluation of the peso will essentially negate any perceive benefit from a re-worked trade agreement — and all of this doesn't even factor in any negative consequences from Trump's plan to build a wall and secure the U.S. border.
Image Credit: Treasury Secretary Timothy Geithner talks alone with NEC Director Lawrence "Larry" Summers in the West Wing Hall By White House (Pete Souza) [CC BY 2.0 or Public domain], via Wikimedia Commons
View Comments and Join the Discussion!
Posted-In: Bloomberg TV China Currency Currency manipulationPolitics Forex Markets Media General Best of Benzinga