How Wall Street Outraged Bruce Springsteen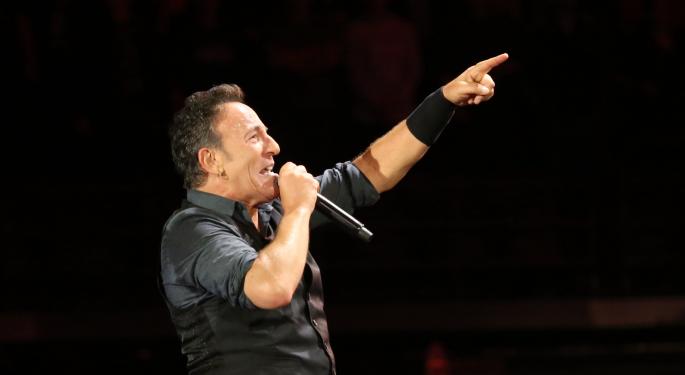 Bruce Springsteen's role as an author amid the release of his new book "Outlaw Pete," which illustrates one of his songs in utilizing a storybook presentation for adults and children, was highlighted in a recent interview with The New York Times, the most prominent branch of New York Times Co (NYSE: NYT).
Among several questions, the heartland rocker was asked about the last book that "made him angry."
Springsteen told NYT, "'Too Big to Fail' by Andrew Ross Sorkin; Michael Lewis's 'The Big Short'; and 'Someplace Like America,' by Dale Maharidge... These are a few of the books I read on the recent financial collapse, and I contributed the foreword to 'Someplace Like America'. The criminal outrage and recklessness described in these books led directly to my 'Wrecking Ball' album."
Related Link: Taylor Swift Isn't The Only Star To Pass On Spotify: Here Are 4 More
Wrecking Ball
The 17th album in the Springsteen canon was written almost in direct response to the 2008 financial crisis; a similar correlation was made with "The Rising" album in 2002.
Several of the songs, like much of Springsteen's previous work, deal with people down on their luck. Its lead single, "We Take Care Of Our Own," was used as one of President Barack Obama's reelection campaign songs.
It was Springsteen's 10th No. 1 album and was named the 2012 album of the year by Rolling Stone magazine.
Michael Lewis, meanwhile, recently came out with "Flash Boys: A Wall Street Revolt," in which he documents how the "market is rigged."
Image credit: Shayne Kaye, Flickr
Jason Papallo had no position with the mentioned entities while writing this article. Visit Jason on Twitter at @JasonPapallo.
Posted-In: Bruce Springsteen Wall StreetPolitics Media General Best of Benzinga
View Comments and Join the Discussion!