Exclusive: The First Lawsuit Against Lumber Liquidators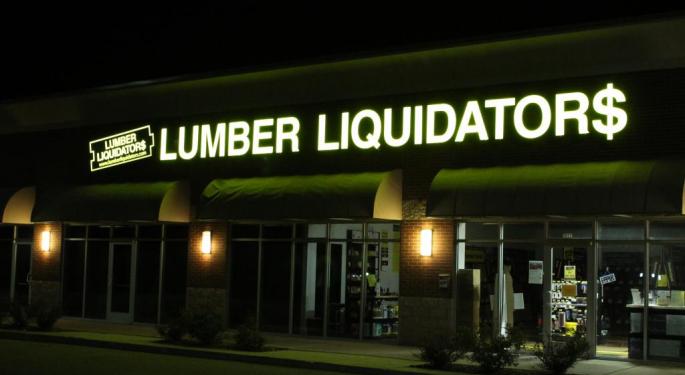 This is the first of a two-part series. To get part 2, add Lumber Liquidators to your portfolio watchlist here.
For Richard Drury, it all started with a simple article.
Drury has been an environmental lawyer for more than 20 years. In 2014, one of his clients came to him with an article that claimed Lumber Liquidators Holdings Inc (NYSE: LL) products contained illegal levels of formaldehyde.
The Chinese Laminate
Drury's client had tested 115 samples of the Chinese-manufactured laminate flooring. All of them failed.
"Now, we're up to almost 300 tests. Not a single bat of Lumber Liquidators Chinese Laminate has passed the test," Drury told Benzinga, adding that there is clearly a problem in the manufacturing at the Chinese mills.
Per the California Code of Regulations, medium density fiberboard (found in laminate flooring) can't exceed a level of formaldehyde more than 0.11 parts per million (see page 7).
The core board from Lumber Liquidators Chinese laid laminate tested by Drury and his team was, on average, six times above the standard.
Drury also tested similar products from Home Depot and Lowe's, but they passed. Lumber Liquidators' own laminate flooring produce in the United States, and not China, "passed with flying colors" with less than half of the allowable levels, Drury said.
"Lumber Liquidators is saying there is a problem with the test, that the test is all skewed, but their U.S.-made products and the Lowe's and Home Depot products pass that test just fine," Drury said.
The Deconstruction Test
Lumber Liquidators' response to the "60 Minutes" episode was to assert that an improper testing method was used in the televised report.
This is the deconstruction test.
Drury explained that during this process, the plastic is taken off of the laminate, so that the core board (a mixture of sawdust and glue) can be tested.
In a press conference a few weeks ago, Lumber Liquidators said that there is no way to know how deconstruction translates to the actual quality of the core material, adding that deconstructive testing is "rough" and can "fundamentally change" the emission reading of the product.
The piece of plastic on top of the board, which is taken off during the deconstruction process, is not an emissions-control device, Drury recently told NPR.
"The CARB standard, which has been proposed for adoption by the United States Environmental Protection Agency, regulates the amount of formaldehyde in the core board," he told Benzinga. "So, in order to determine if the core board meets that standard, you have to take that plastic off."
Related Link: Lumber Liquidators CPSC Conference: A Play-By-Play Recap
The Lawsuit
Quick disclaimer: Drury's lawsuit was not the first filed against Lumber Liquidators. There were a few others filed from late 2013 and early 2014.
But Drury explained that those had to do with actual wood floors, instead of the Chinese-made laminate that his team had been testing.
Drury's firm, Lozeau Drury LLP, filed the first lawsuit against Lumber Liquidators on July 23 of last year under California's Proposition 65, which states that products containing significant amounts of cancer-causing chemicals must have a warning label.
The firm then filed another case several months later on December 11 under the CARB formaldehyde regulations.
"Then it went on. '60 Minutes' got interested and put the big story out. As of [March 19], there were 58 copycat cases all around the country," Drury said. "If you look at the other complaints, they literally copy our complaint verbatim."
When asked for comment regarding the lawsuits from Lozeau Drury, Lumber Liquidators told Benzinga in a statement that the company is committed to providing high quality and safe products.
"We have a well-established track record of delivering a wide range of flooring to millions of satisfied customers across America. We strongly dispute the claims asserted in the lawsuits and intend to defend ourselves vigorously," the statement read.
The Lozeau Drury lawsuits are still ongoing. Stay tuned for the second part of this series -- which will follow where those cases are now and delves into an interview with a source familiar with Lumber Liquidators -- by logging in and adding Lumber Liquidators to your portfolio watchlist here.
Image credit: Dwight Burdette, Wikimedia
Posted-In: 60 minutes Lozeau Drury LLP lumber liquidators Richard DruryMovers & Shakers Top Stories Exclusives General Best of Benzinga
View Comments and Join the Discussion!