Priceline's Wild Ride Heading Into Q3 Earnings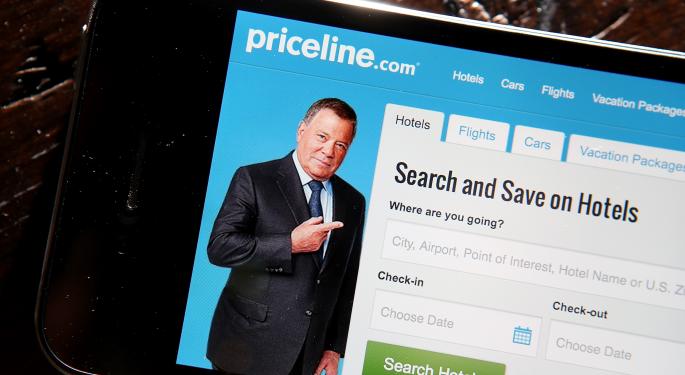 The rollercoaster market in October brought several issues along for the ride. The "V Bottom" that was made in the broader market was emulated by a host of individual stocks.
Priceline's V-Bottom
One such issue that has staged a recovery is Priceline Group Inc (NASDAQ: PCLN).
Its rapid decline from the $1330.00 level that began after its last earnings release in August was exacerbated by the market's meltdown in October.
Keep in mind, that high was quite some distance from Priceline's all-time high made in March at $1,378.96 (when the issue came off a strong holiday season).
Despite posting better than expected earnings for Q2 ($12.51 versus $12.04), the Street was not so convinced Q3 would be rosy. As a result, shares declined from their August 11 high ($1,329.90) to $1,158.58 by the end of September.
Related Link: Oppenheimer: Expedia's Results Bode Well For Priceline
Although the initial sell-off could be attributed to a possible slowdown in its European operations, market-specific hype could be another factor responsible for a decline to $1,013.00.
Investors fearing an Ebola epidemic, in particular, severely punished issues related to the travel and leisure sector.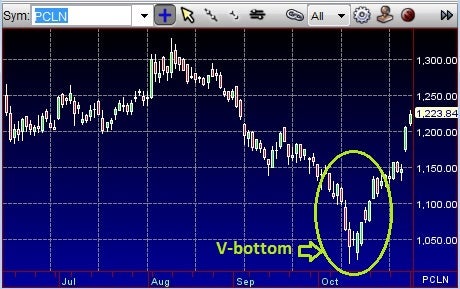 Like Deer In Headlights
In these types of formations, both the potential longs and current shorts often face problems.
Longs that don't spring into action on the decline anticipate a retest of the lows for another chance to buy. Some shorts who did not cover, on the other hand, wait for the exact same thing to happen.
The end result: When there is no retreat, both are left scrambling to accumulate thinly-traded stocks in an upward vacuum.
New Rally
After its initial jaunt from the lower $1,000s to the $1,150 area, Priceline received another boost last Friday when Expedia Inc (NASDAQ: EXPE) released better than expected earnings ($1.94 versus $1.74) on better than expected revenue ($1.71B versus $1.68B).
From a macro standpoint, what's good for Expedia is understandably good for Priceline.
As a result, shares of the latter rallied from $1,158.58 to $1,206.21 in last Friday's session -- a 5.2 percent gain. That marked the stock's highest level since shares peaked on September 4 at $1,243.90.
A Trading Idea
Given that it's typically tough to fight the euphoria surrounding the overall market, Marketfy Maven Nic Chahine prefers to go along with the strong upward trend.
With no clear indications coming from the open interest in the weekly options market, Chahine looks to capture any potential upside with a November debit call spread focusing on the strikes surrounding the $1,325.00 area.
Interestingly, that area coincides with Priceline's August 11 high of $1,329.90.
By using any debit call spread, Chahine's risk is limited to what he pays for the debit spread, but his gain is also limited to the distance between the strikes chosen minus the premium paid for the spread.
One potential risk to the bullish scenario, he says: The company "might feel obliged to warn against Euorzone weakness [that could] affect Q4 guidance."
Whatever the case may be, though, Chahine plans to participate in any upside action with limited risk if his scenario does come to fruition.
What About Wall Street?
Since last quarter's earnings release, only one Wall Street firm has expressed dissatisfaction with the issue.
On September 5, Evercore Partners downgraded Priceline from Overweight to Equal-Weight, and lowered its price target from $1,450.00 to $1,350.00. On October 10, the firm issued another downgrade from Equal-Weight to Hold, and lowered its price target from $1,350.00 to $1,250.00.
Shares are, in their opinion, almost fully valued at their current price.
The vast remainder of analysts, though, are still bullish. With a 12-month consensus price target of $1,478.96, 87 percent of firms hold Buy ratings.
Posted-In: Priceline technical analysisTechnicals Trading Ideas Best of Benzinga
View Comments and Join the Discussion!