Why Has Wall Street Punished Johnson & Johnson For Its Earnings Beat?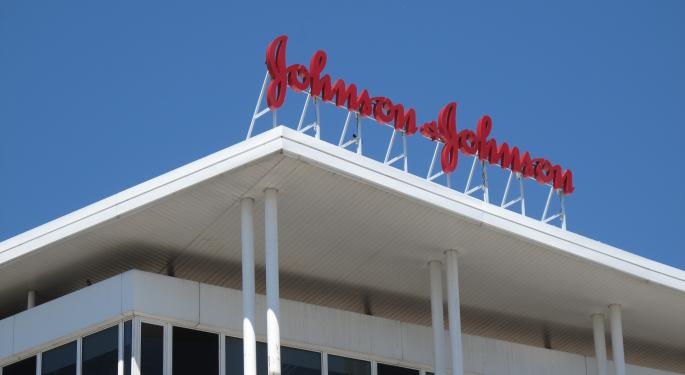 The fickle finger of Wall Street has been unkind to the shares of Johnson & Johnson (NYSE: JNJ) this week, despite an earnings beat.
Not only did the company beat EPS expectations by $0.12, ($1.66 vs.1.54), it exceeded revenues ($19.50 billion vs. $18.86 billion), improved sales by nine percent and raised FY guidance from $5.80-$5.90 to $5.85-$5.92.
With all the good news, one would think JNJ would make new all-time highs. That prediction is right and wrong.
During premarket trading on Wednesday, JNJ soared from its closing price ($105.38) to $107.20, eclipsing its former all-time high of $106.74 before sharply reversing course.
Related: Microsoft: Time To 'Sell The News'?
When the regular session began at 9:30 a.m. on Wednesday, JNJ had relinquished all of those gains and opened flat. After a brief rally above the close to $105.47, sellers once again came out in droves.
By the end of the trading day, JNJ had surrendered more than two points to end the session at $103.28. Traders banking on a relief rally on Wednesday or Thursday were disappointed, as the issue shed nearly another three points over those two days to close Thursday at $100.37 and just off its lows for the day.
Analysts' Expectations
It is not as if the Wall Street analysts ganged up on the issue. In fact, only three Wall Street analysts have commented on the issue since its earnings release. The only one who was bit cautious was Morgan Stanley's David R. Lewis, who reiterated his Equal-Weight rating on the issue.
In the report, he noted, "Underlying trends are solid, but Olysio presents a meaningful '15 headwind. Olysio is offsetting the OCD headwind in 2014 by a factor of two, but could represent a ~$0.27 (4.5 percent) EPS and three percent growth headwind in '15 as Gilead enters the market, likely in 4Q14.
"Increased buybacks with OCD proceeds ($0.05) will help the bottom line," he continued, "but there will still be a >$2.5bn sales gap to fill between Olysio and OCD. Excluding the headwinds, the underlying business should improve in '15, with 200 bps of acceleration in Devices and stable growth in Consumer and Pharma, driving 5.5% ex. Olysio growth."
In addition to Morgan Stanley. Citigroup and Deutsche Bank maintained their current ratings. Citigroup is keeping JNJ at Buy, and raising its price target from $117.00 to $122.00. Deutsche Bank, meanwhile, is keeping JNJ at a Hold and raising its price target from $102.00 to $107.00.
What's Next?
As the "sell the news" mentality had abated, what is next for the issue? Based on the above-average volume on the three down days, one of three things has taken place.
Long-term holders of the issue that did not exit on the way up are cashing out and putting their resources to work other issues.
Shorts are confident that JNJ's all-time high of $106.74 will stand for quite some time and are anticipating a retreat in the overall market that will drag down the issue.
Investors who have missed out on the fabulous rally in JNJ most likely are adding this high-dividend paying, low-beta issue to their portfolio.
If the rally continues, JNJ may find minor resistance at Thursday's high ($102.10) and additional resistance at $103.67, which coincides with 50 percent retracement of its current decline at $103.50.
Posted-In: analysts healthcareTechnicals Movers & Shakers Intraday Update Analyst Ratings Trading Ideas General Best of Benzinga
View Comments and Join the Discussion!