Is Carl Icahn Good For Apple?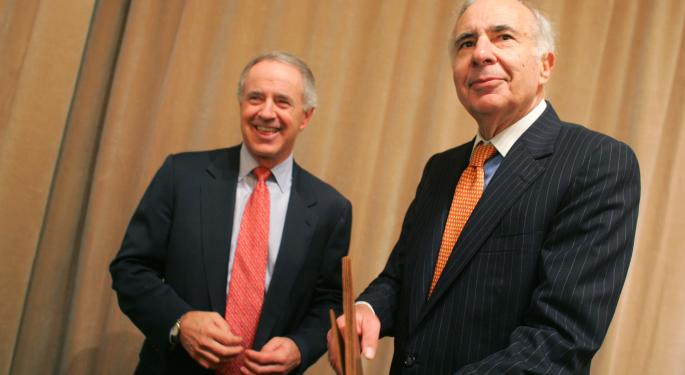 Carl Icahn has been very open about what he wants from Apple Inc. (NASDAQ: AAPL) -- including an Ultra HD television set.
More than anything, Icahn wants a buyback. Is this good for Apple and its investors, or would it be better if Icahn and other activist investors backed off? "I think that, generally, Icahn is good for investments on Wall Street but bad for the company," Patrick Moorhead, president and principal analyst at Moor Insights & Strategy, told Benzinga. "Many times he is asking them to do things or setting up situations that are not good for the company long-term."
For example, Moorhead said that Icahn's idea for Dell was to "instill a bunch of directors who know nothing about high-tech." "That would have been a really, really bad move," he said. "As it relates to cash or buybacks, I don't think that Apple distributing their cash or more of their cash is necessarily a good thing for Apple at this point."
Related Link: Is PayPal Stronger Against Apple Inc. Without eBay Inc?
What Would Apple Be Like Without Icahn?
Sean Udall, CIO of Quantum Trading Strategies and author of The TechStrat Report, does not want Apple to buy back more of its shares.
He also thinks Apple would be trading higher if Icahn had never gotten involved. "I think a lot of shareholders have liked Icahn's involvement," Udall told Benzinga. "I really don't think he's had much of a positive impact on the price. He did a really good job of identifying a cheap asset at a really good price and taking advantage of the situation."
Despite his view on the current situation, Udall said he likes Icahn. He praised his career, saying that Icahn has done a "great job" overall. "I fully agree with him on eBay," Udall added. "With Apple, I kind of get the sense that he's, in some ways, trying to take credit for some of the rides in Apple's stock. I just don't buy it. I think Apple was ready to get on the freight train going north. It's not like other people couldn't see how good of a buy and how cheap Apple was."
Udall also disagree with Icahn's belief that Apple will go to $200. He thinks it will go to $150 in the next 12 to 18 months but does not expect it to hit $200 for a few years.
Related Link: Apple Inc. Tax Probe Could Be Expensive For Everyone Involved
'Stirring The Pot'
If nothing else, Icahn could force some companies to perform better. "With [Icahn] circling, the Board has to look closely at what's performing well and what's underperforming," Dan Miller, founder and senior analyst of Opus Research, told Benzinga. "It keeps them on their toes, but it doesn't always lead to the best decisions.
"I suppose having activist investors around HP is forcing them to make a bunch of these ideas that are tossing around come to a head. I won't say it's a 50/50 chance they'll make a bad decision, but there is a certain randomness to it."
Miller doesn't think that an Apple buyback would be as rash as Hewlett-Packard Company splitting into two separate entities. "That seems kind of dramatic. These are the sorts of the decisions that get brought into the spotlight when the activist starts stirring the pot."
'Easy Money'
Moorhead thinks he knows why Icahn loves Apple so much. "If [Icahn] feels like he made some easy money somewhere -- at a certain company -- he's gonna try to get even more the second time," Moorhead explained. "I know he's been boasting about 50-plus percent return, and if you think about that, he sent out a couple tweets and he had a couple dinners with Cook to be able, in his mind, to get that. So he's going back there. "[This is] very different from him retreating from Dell, where it was such a hard road. He didn't necessarily make the money very easily. I think he thinks this is the easy one."
Apple, The Next Berkshire Hathaway!?
Udall has an interesting suggestion for Apple's Board. Instead of a buyback, he thinks the company would be better off becoming the next Berkshire Hathaway. "I think buybacks are good to a point," said Udall. "I think the companies that are the very best at doing buybacks, they're contrarian. They love the stock and they're aggressive at buying it back when the market is bad and everyone is selling their stock and their stock gets to a cheap valuation range."
Udall thinks Apple should only initiate a buyback when the company is "dirt cheap" -- but not when its shares on the rise.
Disclosure: At the time of this writing, Louis Bedigian had no position in the equities mentioned in this report.
Posted-In: Apple Carl Icahn comments Dan MillerHedge Funds Top Stories Tech General Best of Benzinga
View Comments and Join the Discussion!