CDC Still Recommends Sanofi, GlaxoSmithKline Vaccines As Flu-Related Deaths Rise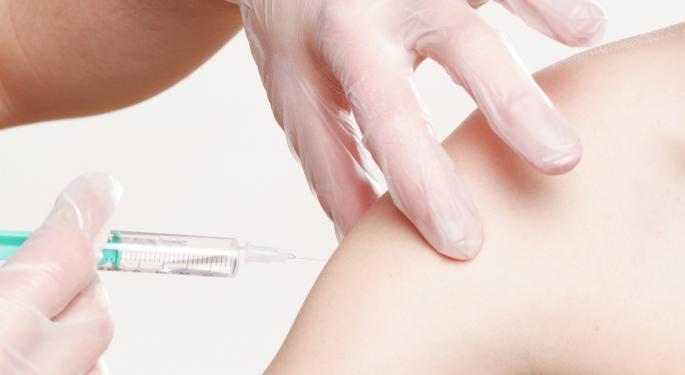 The lethal H3N2 flu strain and comorbid diseases claimed at least 4,000 lives in the U.S. last week, according to the Centers for Disease Control.
The illness rate now rivals that of the swine flu in 2009 and exceeds that of the last severe flu season in 2003, when a new strain emerged.
"Flu is everywhere in the U.S. right now," Dan Jernigan, director of the influenza division at the national Center for Immunization and Respiratory Diseases, said in January — well before the outbreak peak. "This is the first year we have had the entire continental U.S. be the same color on the graph, meaning there is widespread activity in all of the continental U.S. at this point."
The hospitalization rate, which tends to correspond with the death rate, suggests this season may set fatality records. Hospitalization is on track to equal or exceed the 2014-2015 rate, when 56,000 people died, according to The New York Times.
"This is a difficult season, and we can't predict how much longer the severe season will last," Anne Schuchat, the U.S. Centers for Disease Control and Prevention's acting director, said last week on a media call. "I wish there was better news, but everything we are looking at is bad news."
Influenza and pneumonia caused one in 10 deaths last week and that number will likely rise, according to Schuchat.
How To Fight It
Only Seqirus and Sanofi SA (ADR) (NYSE: SNY) are known to produce vaccines that effectively inhibit H3N2, but the CDC also recommended products from GlaxoSmithKline plc (ADR) (NYSE: GSK). AstraZeneca plc (ADR) (NYSE: AZN)'s FluMist was not prescribed this year.
Considering the demand for vaccines this season, the pharmaceutical companies might have incentive to invest in research and development for more potent, comprehensive products.
The Center for Immunization and Respiratory Disease's Jernigan said the development of a broader flu vaccine is further out on the horizon.
"Ultimately a broadly protective, longer-lasting vaccine — one that you would get once or twice in life and it would cover every flu — we would love to see something like that," Jernigan said. "I think it will be several years before we will have something like that."
Who To Turn To
Despite studies suggesting efficacy between just 10 and 30 percent, the CDC still recommends the flu shot and directs consumers to CVS Health Corp (NYSE: CVS), Walgreens Boots Alliance Inc (NASDAQ: WBA) and Rite Aid Corporation (NYSE: RAD) for the immunization.
CVS anticipates a swell in flu-related sales driving 0.5-percent to 4.5-percent adjusted operating profit growth in the first quarter.
Related Links:
19 Biotech Stocks With Clinical Trial Outcomes In February
Analyst: When Americans Sneeze, Teladoc And Athenahealth Profit
View Comments and Join the Discussion!
Posted-In: Anne Schuchat Centers For Disease Control Dan Jernigan DCD fluHealth Care Trading Ideas General Best of Benzinga