Why Company Culture Is Critical for a Small Business' Bottom Line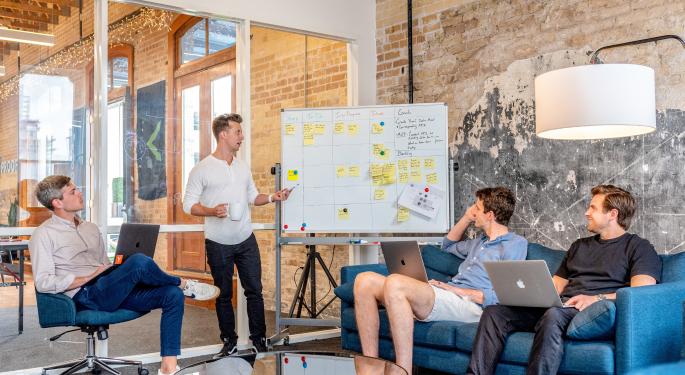 The following post was written and/or published as a collaboration between Benzinga's in-house sponsored content team and a financial partner of Benzinga.
The culture of a company starts at the top. If the CEO or manager in charge isn't taking the necessary steps to create a positive work environment, you run the risk of losing your employees. In fact, according to a poll conducted by Monster, 42% of U.S. workers left a job due to stressful work environments, with the most common stressor being a relationship with a supervisor coming in at 40%.
However, catering to dozens of individual employees is neither easy nor cheap. Given the astronomic cost of health benefits and a labor shortage driving increased demand for skilled workers, small business owners are eager to keep the talent they have while also creating a compelling environment for new team members.
Many of the small businesses Credibly works with echo these same concerns when seeking financing. They want their employees to feel appreciated and well-compensated but are unsure of how to best allocate their capital for intangibles like company culture and work-life balance.
Luckily, there are some cost-effective steps small business owners can take to retain the talent they have and foster a work environment that appeals to new hires as well.
What Workers Want
A key factor underlying this trend is that employers carry misconceptions about what their employees desire most from their jobs. In 1946, the Labor Relations Institute of New York published a survey titled "Foreman Facts." In this survey, they listed 10 wants for an employee from an employer and had the employees rank them in terms of importance. They also asked the employers to rank the list of 10 based on what they thought their employees wanted.
The top three things that employees demanded from their managers were: full appreciation for the work done, feeling "in" on things, and sympathetic help on personal problems. In contrast, employers ranked these three desires as the bottom three wants from their employees.
There is clearly a disconnect between what employees say they want and what employers think they want. And although this study was conducted over 70 years ago, it has since been replicated 5 times and has yielded the same results.
Losing good employees isn't the only downside to work members leaving. Estimates on the cost of onboarding a new employee range from 150-200% of their annual salary. Additionally, even with U.S. employment being at an all-time high, the labor market continues to tighten. At over 150 million workers, a 2019 Retention Report from Work Institute reported that in 2018, 41.1 million U.S. workers voluntarily left their job. The report estimates that this number will only increase, causing the turnover rate to hit 35% in 2023, up from 27% in 2018.
Fostering Culture
In addition to costly ramifications, employees who find themselves in a work environment where they are unhappy are 10% less productive, whereas workers that were happy were 12% more productive than the average worker.
So why is company culture a critical term to understand? Well, for many small businesses, a lack of company culture could be the reason companies are struggling to retain talent.
Companies like Alphabet Inc (NASDAQ: GOOGL) (NASDAQ: GOOG) provide free cooking classes, meals, and massages to their employees giving Google the top spot on Fortune's Best Companies to Work For list six years in a row.
A company's benefits package plays a big role in whether a company retains its employees. A 2018 employee benefits survey from the Society for Human Resources Management found that 92% of employees feel that benefits are important to their overall job satisfaction. And of that, nearly one-third cited their current benefits package as a top reason to look for a new position with a different employer in the next 12 months.
That said, you don't need to shell out the big numbers that Google does to create a strong company culture. Simple ways to boost employee engagement include flexible work hours, employee reward programs, or even adopting Google's 20% policy. In an effort to create a work-life balance, Google gives its employees the chance to go out and utilize their time towards a side project, and allows them to take 20% of their time to do so — this 20% policy led to the creation of Gmail, AdSense, Google Maps, Google News and Google Talk.
Creating original benefits can set a company apart and draw in new talent who are looking for more from their employee than just a salary.
The preceding post was written and/or published as a collaboration between Benzinga's in-house sponsored content team and a financial partner of Benzinga. Although the piece is not and should not be construed as editorial content, the sponsored content team works to ensure that any and all information contained within is true and accurate to the best of their knowledge and research. This content is for informational purposes only and not intended to be investing advice.
View Comments and Join the Discussion!
Posted-In: CEO company culture CrediblyEntrepreneurship Psychology Startups Small Business General