Billionaires Boast Reusable Rockets, Motels In Space And Big Plans For A Big Plane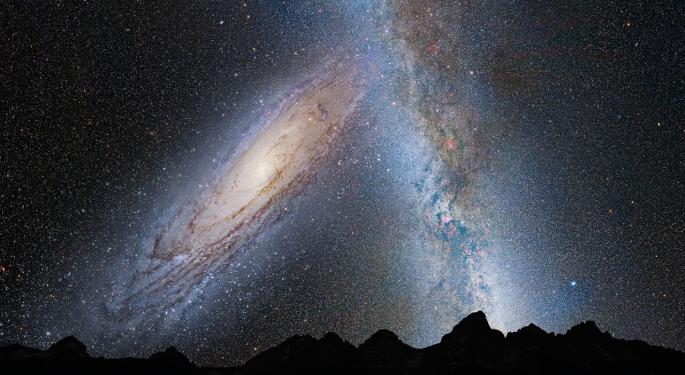 Look! Up in the sky! It's a bird! It's a plane! It's the super rich!
Those big-thinking billionaires and their sky-high space obsessions: One wants to build inflatable houses in space and thinks aliens walk among us. Another just unveiled not only the world's biggest plane, but the biggest rocket launcher.
And a third mogul planned Thursday evening to launch the world's first used rocket as part of a grand plan to make space travel commonplace.
Thinking Big To Launch Cheap Satellites Into Space
Billionaire Paul Allen, who already owns one of the world's biggest private collections of World War II combat aircraft, unveiled on Wednesday a twin-fuselage mega jet equipped with six Boeing 747 engines.
Dubbed the Stratolaunch, the aircraft has a 385-foot wingspan and 28 wheels. It's larger than — and will presumably flight a lot higher — and faster than Howard Hughes' legendary Spruce Goose.
The plan of the co-founder of Microsoft Corporation (NASDAQ: MSFT) is to carry a pair of rockets loaded with satellites, one of many privately run enterprises to meet the demand for satellite ferries.
The rollout came at its Mojave Air and Space Port hangar in California to begin fueling tests in preparation for a launch demonstration in 2019, Stratolaunch CEO Jean Floyd said in a statement.
Attention Donald Trump: Another Rich Guy Knows About Aliens You Don't
Meanwhile, budget hotel tycoon Robert Bigelow, who has a deal to add an inflatable room to the International Space Station and wants to dot the cosmos with other such inflatable habitats, told CBS' "60 Minutes" that extra-terrestrials walk the earth.
Here's an excerpt of his conversation with correspondent Lara Logan.
Lara Logan: Do you believe in aliens?
Robert Bigelow: I'm absolutely convinced. That's all there is to it.
Lara Logan: Do you also believe that UFOs have come to Earth?
Robert Bigelow: There has been and is an existing presence, an ET presence. And I spent millions and millions and millions -- I probably spent more as an individual than anybody else in the United States has ever spent on this subject.
And Capping Off Your Week Of Billionaires In Space
Elon Musk, owner of the commercial space travel operation SpaceX and founder and CEO of Tesla Inc (NASDAQ: TSLA), is prepping for a special event Thursday evening. SpaceX will attempt to re-use one of its Dragon capsules for the first time in an active mission, marking its 11th mission to the International Space Station on behalf of NASA. The resupply launch will occur at 5:55 p.m. EDT Thursday.
Your move, Richard Branson and Jeff Bezos.
Related Link:
10 Star-Gazing Startups Seeking Trans-Galactic Free Trade Agreements
Posted-In: News Entrepreneurship Previews Travel Events Global Tech Trading Ideas Best of Benzinga
View Comments and Join the Discussion!