This Startup Targets Indigent Elders To Curb Off-The-Charts Medical Costs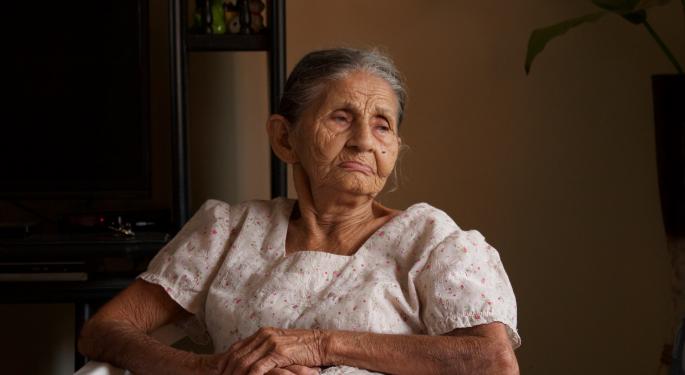 Build a business model based on marginalized Medicare recipients living in poor, urban neighborhoods where doctors rarely care or dare to set up shop.
Focus on quality health care with a holistic view of a patient's needs, from house calls to behavioral counseling to transportation to that extra face time with an understanding doctor.
Lather, rinse and repeat, and you have Oak Street Health, LLC, a startup that began with a single clinic in Chicago five years ago and now has 20 places with nearly 800 employees serving 28,000 people in Illinois, Michigan and Indiana. And growing.
What started out as three men with a plan and a PowerPoint presentation for investors now partners with insurance giants such as Humana Inc (NYSE: HUM), WellCare Health Plans, Inc. (NYSE: WCG), CIGNA Corporation (NYSE: CI) and Anthem Inc (NYSE: ANTM), among others.
"I am taking on the sickest patients in neighborhoods that have the least resources and producing the best results," said Griffin Myers, M.D., the company's chief medical officer.
Reimagining Health Care
The startup was founded by Myers and two other former members of the health-care division at Boston Consulting Group: Chief Executive Mike Pykosz and Chief Operating Officer Geoff Price.
Oak Street Health represents their realization of what is known as a value-based model, a relatively new trend in medicine where the aim is to keep people healthy while improving the health of those with chronic conditions.
The current, dysfunctional system is fee-for-service, under which doctors and hospitals are paid based on the number of medical procedures they prescribe and patients they see. Value-based models have gained traction because the fee-based way has led to off-the-charts jumps in health costs without improvements in care.
By providing high-quality primary care to people dependent on Medicare, the group said it has reduced hospital admissions among its patients by 40 percent. Its clinics are warm and welcoming and double as community centers where indigent elders can, for example, take computer classes or watch movies.
Hospitalizations count for as much as 50 percent of the costs incurred by a Medicare patient, said Pykosz. "You can save a lot of money by keeping your patients healthier," he said.
Money saved on hospitalization can be better spent on total health-care management meant at keeping people out of the hospital, he said.
Edge Over Traditional Doctor
The group takes pains to make the surroundings unintimidating, to ensure that a doctor returns phone calls, said Pykosz. Getting patients required community outreach in churches and YMCAs. Getting investors required a leap of faith.
"There are always stumbling blocks when you are trying something enterprising and new," he said.
Oak Street Health said its primary care practices offer more services than a regular doctor's offices, including:
A team that includes doctors, nurses, medical assistants, and medical records experts.
A team that spends as much quality time with members as needed to discuss all of the issues that can affect their health.
A care manager assigned to patients to help connect them with community resources.
The convenience of walk-in hours which often let patients be seen the same day.
Myers said he had a revelation while working the graveyard shift at Massachusetts General Hospital. An 83-year-old woman came in for treatment and a nurse said, "It's her again."
Myers said he took the old lady down the hall and got to know her. She came to the ER because that was the closest to a local care provider within range of her neighborhood.
"There is a lot of cultural stuff that underlies that," he said. "It's no secret that people of color don't have access (to the same health care as others)."
Helping those marginalized by society is part of a pitch he uses to get medical personnel to buy into Oak Street — which was named after a common street name in Anytown, U.S.A. precisely to give it a neighborhood feel.
"Our heart is in care that is affordable," said Myers, who grew up in the small Tennessee town of Franklin. "We should be the national provider in neighborhoods."
Related Links:
Synergy Scores Again: Trulance Product Meets Phase 3 Endpoints In Second Indication
FDA Expresses Concern On TherapeuticsMD; Oppenheimer Downgrades
View Comments and Join the Discussion!
Posted-In: CIGNAEntrepreneurship Health Care Top Stories Startups Exclusives Interview General Best of Benzinga