Taylor Swift Isn't The Only Star To Pass On Spotify: Here Are 4 More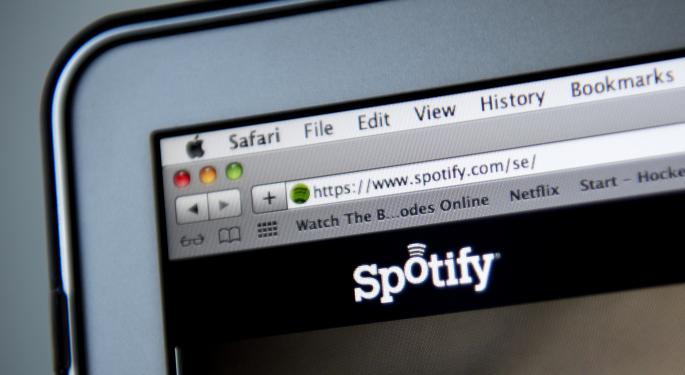 With the successful launch of her new album and several hit singles, Taylor Swift is on a roll.
In fact, industry projections for the album, "1989," have it selling 1.3 million copies in its first week. No other album has reached one million copies sold this year.
On Monday, perhaps leveraging that success and definitely hoping to send a message, Taylor Swift pulled her music off the streaming music service Spotify.
Earlier this year in a Wall Street Journal op-ed, Swift expressed her dissatisfaction with the state of the music business and the concept of offering music for free online.
"Music is art, and art is important and rare," she wrote.
Swift added: "Important, rare things are valuable. Valuable things should be paid for. It's my opinion that music should not be free, and my prediction is that individual artists and their labels will someday decide what an album's price point is. I hope they don't underestimate themselves or undervalue their art."
Fractions Of A Penny
Worth noting: Spotify does not pay artists a flat rate per play.
Rather, payment to rights holders is determined by the percentage of total Spotify streams an artist's music takes. Someone like Taylor Swift, whose music takes a relatively high percentage of that total, gets paid more per stream than a smaller artist with less fans.
The company has said that, on average, songs generate between $0.006 and $0.0084 per stream in royalties.
Related Link: Will Katy Perry 'Pay To Play' At Super Bowl XLIX?
So, who else is on Swift's side?
Thom Yorke
Last year, the Radiohead singer pulled all of his solo work and his new side project (Atoms for Peace) off Spotify. In an interview with Sopitas, Yorke made it clear he doesn't believe streaming will be the salvation of the music industry.
He proclaimed: "To me this isn't the mainstream, this is like the last fart, the last desperate fart of a dying corpse. What happens next is the important part."
Notably, Radiohead is still on Spotify.
The Beatles
Among the most prolific and influential bands ever, the Beatles' tracks are not available on the platform. The band held out of other digital areas as well, until the end of 2010, when Apple's iTunes gained access.
Despite the Beatles' absence, John Lennon's solo work debuted on Spotify last month.
Garth Brooks
Besides the eight tracks on Spotify that his name is attached to (mostly collaborations), the country star's music is not on the service.
In fact, Brooks took the digital sale of his music into his own hands; in September, he made his entire catalog available for download on his website. Brooks even started his own streaming service, GhostTunes, which allows other artists to sell their music as well.
Tool
Back in 2000, the band's singer, Maynard James Keenan, gave NY Rock his feelings on the then-new trend of digital music downloads.
"In a way, it does destroy the music scene, not just the record companies, even more the artists, the people who write the songs and who don't get paid," he said.
"I think there are a lot of other industries out there that might deserve being destroyed. The ones who get hurt by MP3s are not so much companies or the business, but the artists, people who are trying to write songs."
Not only is Tool not on Spotify, it's not on iTunes either. The band prefers its music to be sold exclusively in album format.
Posted-In: Spotify Spotify payments Taylor SwiftEntrepreneurship Topics General Best of Benzinga
View Comments and Join the Discussion!