How Jason SurfrApp Sold His Last Name To Sponsors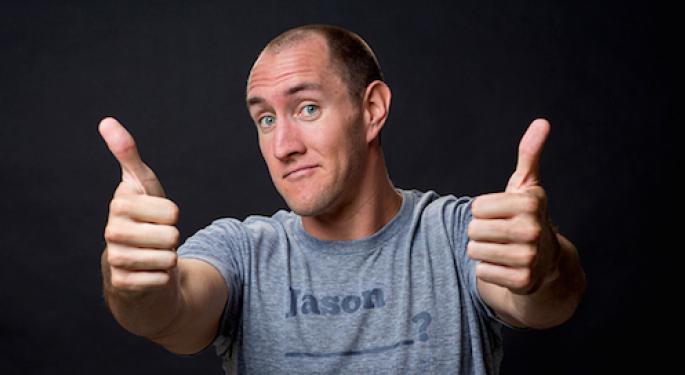 Benzinga partner James Altucher recently interviewed one of the most unique entrepreneurs around -- a man who has made money selling his identity.
His name is Jason SurfrApp, and before that, he sported a surname of -- believe it or not -- headsets.com.
SurfrApp sat down with James Altucher and explained how he transformed his last name into a sponsorship property.
How To Sell A Last Name
When asked exactly how he sold his last name, SurfrApp detailed the process: "I had done a bunch of research... I bought the domain 'buymylastname.com,' which shockingly was available, and I started an auction [for 30 days, beginning at $0.00] because I figured just setting a price for it seemed really arbitrary.
"In the first 24 hours, it got up over $30,000," he said.
SurfrApp (whose given last name is Sadler) said there were about 40 bidders in this time frame, including board game companies, realtors in Canada and individual entrepreneurs.
Headsets.com eventually bought the rights to his name for $45,500 on the last day of the auction, in the last minute.
"I actually went to the courthouse, I sat in front of a judge and had a lawyer. It was very weird and awkward, because everyone around me was going through... real life issues, and here's me... 'Ah, I just had a crazy idea and I'm going through with it, so I'm changing my last name,'" he remarked.
Jason SurfrApp also discussed the second time he sold his last name.
"I did the auction again, started at $0.00... and pushed it out across social media like before."
He said he also promoted it through an interview with the New York Times, adding that SurfrApp eventually submitted a final bid of $50,000.
Listen To The Full Podcast
In the full podcast, Jason SurfrApp shares his ideas on other topics, including crowdfunding, how to make money wearing T-shirts and how he networks.
Posted-In: James Altucher Jason SurfrApp SurfrAppEntrepreneurship Top Stories Success Stories Interview General Best of Benzinga
View Comments and Join the Discussion!