3 Simple Steps To Take Your Startup From $0 To $10 Million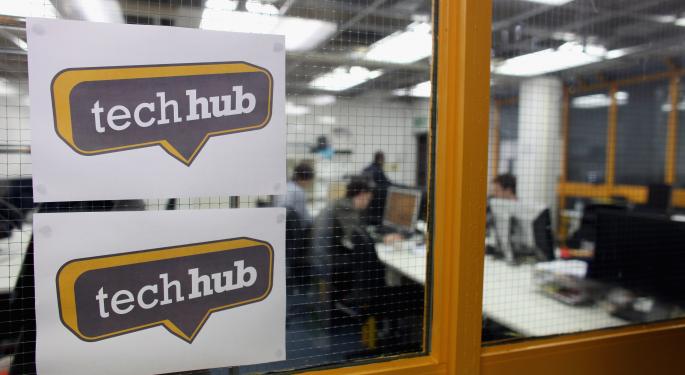 There's no shortage of startups in the windy city.
Built in Chicago, a community group focused on growing young technology companies lists more than 2,500 startups in the area -- and that's just in the tech space.
So how does one company that started with two employees go from zero to $10 million in funding from Bain Capital Ventures in less than three years? Hireology Founder and "chief hireologist" Adam Robinson took the time to sit down with Benzinga to talk about his company's success and the science of hiring.
Related: Banana Republic Creates 'Startup Guy' Look
Be First To Market
While there's a myriad of staffing and consulting companies that already exist, Hireology has created the first technology platform that helps make every day managers, themselves, great at picking talent.
The self-service model eliminates the need to bring in third-party recruiters. Most technology in this space focuses on administrative tasks, such as sorting and filing resumes, but doesn't do anything to help decide which candidates are best for the job.
"We do all of the administrative aspects," Robinson said. "But we add our own proprietary data and analytics."
Ever considered #hiring an engineer for a marketing position? Check out the benefits of hiring outside your industry. http://t.co/SDb7jUI9ot

— Hireology (@Hireology) August 21, 2014
In fact, Hireology's crew spent two whole years doing field research to produce the original baseline data set. The team then correlates certain score factors to a prediction for success in any given role. The company is constantly updating its research, as it collects data from its customers that use their hiring software.
"Hireology's vision is to be the FICO [credit score] of candidate scoring," Robinson said.
Eat Your Own Dog Food
While rumored origins of the term "Eat your own dog food" range from the Kal Kan Pet Food president eating a can of his dog food at shareholder meetings to Microsoft (NASDAQ: MSFT) popularizing the use of the term in the 1980s, the idea is always the same: Companies should use the products they want customers to purchase.
Hireology does exactly that. The company uses its own researched and developed hiring software to build the team.
The Hireology crew has an average phone screen score of 91 percent and an average achievements interview score of 92 percent. They've gone from 15 employees at the start of this year to 50, and they'll be approaching twice that many a year from now.
Create Exceptional Company Culture
Hireology has also managed to turn the great team it's put together into a successful company through defining the culture, something that can be hard to define, refine and master.
"From day one, we have had defined core values for the company that set out the way we want to do things," Robinson said.
Related: How One Startup Quadrupled Its Size In Nine Months
Those core values are critical. They include important startup philosophies like pathological optimism, eagerness to improve and "no assholes."
Hireology's website also says that the company plays 132 games of ping pong each week and eats 23 Blue Frog Messy Mary sandwiches every month.
Blue Frog is a restaurant just two blocks away from the Hireology office, Robinson said, and has a top secret recipe for a sloppy joe, which the company calls a "Messy Mary."
"It's our VP of sales' lunch of choice 70-80 percent of the time," he said. "Every time a new employee starts, we take them to lunch at Blue Frog."
Posted-In: Adam Robinson Chicago HireologyEntrepreneurship Startups General Best of Benzinga
View Comments and Join the Discussion!